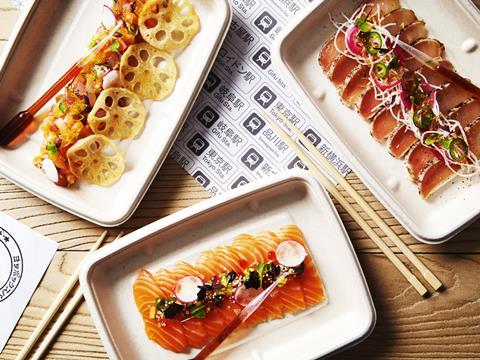 Yo Sushi has bought a majority stake in US sushi group Snowfox, ramping up its efforts to launch branded Japanese food into retailers and food-to-go outlets.
The merger with the US rival – which handles over 700 supermarket sushi counters – will help Yo Sushi branch away from the struggles faced by restaurant chains on the UK high street, which have seen brands of the likes of Jamie's Italian collapse.
The move is in line with Yo Sushi's strategy to move from restaurateur to "global multi-format Japanese food business", launched with the acquisitions of Bento in 2017 and Taiko Foods in 2018.
Last October, Yo Sushi inked an agreement to pilot food-to-go counters at Tesco.
"Building on from the successful integration of Bento Sushi starting in 2017, YO! will look to replicate this approach with SnowFox as it continues to execute its diversification strategy," Yo Sushi CEO Richard Hodgson said.
"By expanding its geographical presence and offering, the expanded group will meet the untapped demand of consumers around the world."
The acqusition makes Yo Sushi the "largest sushi company outside of Japan", with a $400m enterprise value and combined annual sales of $425m.
Under the terms of the transaction, Snowfox's chairman Jim Kim will roll-over most of its equity into the group.
Kim will remain a significant shareholder in the business as well as gain a seat on the board.
The deal will see the group partnering with "leading retailers across North America and the UK" – including Kroger, Walmart, Waitrose and Tesco – as well as operating 1,400 kiosks and 89 restaurants.