Last week Morrisons made a lot of noise about its strategy to scale back its promotional participation.
But according to the latest research by Assosia, the impact of this strategy is not being seen in supermarket key featured space. For the four weeks to 14 September Morrisons ran 2,316 deals in featured space, up 9.6% on the same period last year and 3.9% higher than the previous four-week period.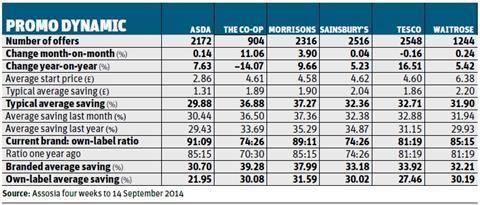 "Featured-space promotional activity is usually paid for," said Assosia MD Kay Staniland. "This is revenue Morrisons can't afford to give up. Therefore reductions in promotional activity are likely to be in the main aisle of each category."
The increase in featured-space promotions comes as Morrisons management last week looked to promotions as a reason to be cheerful while reporting a 51% fall in underlying pre-tax profits and a 7.4% drop in like-for-like sales.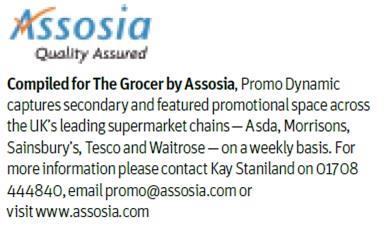 The retailer said that it had reduced the overall number of items on promotion by 12.9% in the last quarter, and reduced its promotional participation by 140 bps. CEO Dalton Philips added Morrisons' promotional participation was still too high at over 40% and a long way from the "retailer's historical sweet spot of 28%," and revealed his aim was to bring this down to the mid-30s as part of the current three-year plan.
For the time being, Morrisons featured-space deals stand out as being especially aggressive. According to Assosia, its average saving per deal of £1.90 was 5.6% higher than a year ago. Only Sainsbury's and Waitrose were giving away more per deal.
Part of Morrisons' wider strategy has been to thin out its range and avoid duplication, particularly in own label. The retailer has removed over 2,000 SKUs in the last six months, and the Assosia figures reflect this in a reduction in the promotional mix for own label. Just 11% of its deals were own label in the last four weeks compared with 15% a year ago.
All the major retailers bar The Co-op ran significantly more offers than last year. Tesco with 2,548 deals had the most of any retailer, up 16.5% on last year. Meanwhile, Asda ran 7.6% more offers, deals at Waitrose were up by 5.4% and at Sainsbury's by 5.2%.