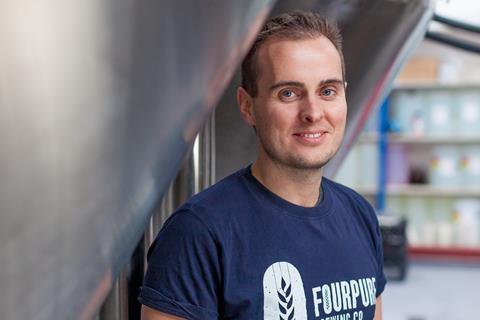 Dan Lowe has stepped down as CEO of London craft brewer Fourpure.
Lowe, who founded the brewery with his brother Tom in 2013, revealed he had resigned from the helm of the Bermondsey-based brand on Twitter this week, but will be staying on in an advisory role on a part-time basis. Tom Lowe, whose role as founder centred largely on international sales, will also be taking on a part-time role.
Dan Lowe said: "It's been a phenomenal journey over the last six years and a privilege to lead the Fourpure family. I'm incredibly proud of the beers we have made and the part we've played in the growth of the craft beer category in the UK.
"What started as a small and lean entrepreneurial business with a passion for beer has now evolved into a fully-fledged brewery, with further developments around the corner with Lion's recent investment in our capability, capacity and customer experience."
The past years have seen Fourpure transform from a small player into one of the leading brands in the craft beer category – its brews are currently listed in Tesco, Asda and Waitrose.
Lowe oversaw the brand's sale to Australian beer giant Lion in 2018, which was followed by a major investment in its site, expanding its brewing capacity to 66,000 hectolitres per annum – 6.6 million litres – and a new 400-cover taproom with a 43-tap bar, which opened to the public last month.
Lion UK and Europe regional director Toby Knowles will lead the Fourpure business "for the time being", Fourpure said.
The Lowe brothers had "been integral to growing Fourpure to where it is today and as exceptional businessmen, we're thrilled to have them both staying on. It's been a strong year for Fourpure and we're excited to see what the next year will bring," said Knowles.