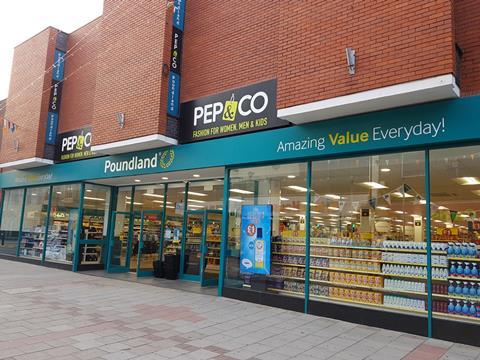 Poundland has announced two senior appointments, a new chief finance officer and trading director.

Tim Bettley, a former trading director at Morrisons, is to move to the variety discounter in the same post, which has been vacant since Barry Williams' promotion to Poundland's UK and Ireland MD in September last year.

Dave Williams, a former CFO of The Original Factory Shop, has already moved to the same role at Poundland.

Bettley was Morrisons' commercial director for clothing for three years until 2015 and trading director for general merchandise and clothing for a further five months.

Before Morrisons he spent eight years as managing director of Peacocks. He is currently commercial director at The Orginal Factory Shop, a post he has held since November 2015.
Dave Williams was The Original Factory Shop's CFO for a year and before that JD Sports' group commercial director for three years. He moved to Poundland in August, although his appointment was only announced today. He replaced Roy Ellis, who moved to parent company Pepkor Europe as business development director.

Both Bettley and Dave Williams are to report to Barry Williams.

Bettley will take responsibility for Poundland's trading, stock control and marketing teams.

A Poundland spokeswoman said his experience at Morrisons and Peacocks will "be key as Poundland continues to transform itself into a general merchandise, fmcg and clothing business" following the 12-month roll out of Pep&Co to more than 300 stores.

Among Dave Williams' duties is responsibility for Poundland's property team, which is to be led by Ben Wall. Wall is stepping up from the role of head of portfolio management to take over from current business development director Andy Garbutt.

"These are two important hires to complete my top team," Barry Williams said of the two newcomers to the business. "And it's no coincidence that both have value retail and clothing experience. That's because we're building a new Poundland that's extending our promise of amazing value every day into a broader range of products.

"I'm also pleased to provide Ben with an opportunity to step up - under Andy Garbutt's leadership Ben has helped deliver a market-leading 60% reduction in property costs. I know Ben will continue that drive to ensure landlords better understand the new normal on high street occupancy costs.

"I'd also like to thank Andy for his four years' service to Poundland - we're a business better placed to win on a changing high street because of his efforts."