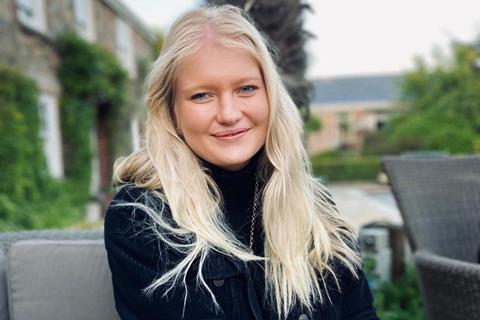 Name: Annie Jones
Age: 23
Job title: Sales manager
Company & location: Nice, London
Education: Bryanston School, Dorset and Oxford Media & Business School
Why did you decide to go for a career in food? Being completely open and honest (because that's how we are at Nice), it's not something I actively sought to go into. But having been offered an opportunity as a three-month Intern and having grown up in a family that is in the hospitality and restaurant industry, it soon became clear this is where my passion actually lies.
Explain your job to us in a sentence (or two): To bring Nice commercial strategy to life through winning new business and developing strong partnerships with our accounts to ultimately drive more sales. I currently account manage 11 wholesalers as well as our trade website.
What does a typical day look like for you? Every day is different, but a normal day involves finding end customer leads, presenting Nice, offering samples and receiving customer feedback. At Nice we're obsessed with finding out a customer's 'route to market'. I must mention those three words 20 times a day.
Tell us how you went about applying for your job. A friend of mine introduced me to Nice and mentioned they were looking for a sales intern. I had a very informal call with Lucy, one of our co-founders. I knew instantly we would get on. I was then offered a full-term contract after a month and now find myself as sales manager. I joined Nice with absolutely no sales experience, but our two co-founders believed in me and are very passionate about training and upskilling young people.
"I joined Nice with absolutely no sales experience, but our two co-founders believed in me"
What's the best part about working for a food company? Although my role is primarily working in sales for our ever-expanding sales team, being part of a small company has meant I am learning all aspects of running a company including production, marketing and distribution, and the general all-round commercial skills involved with the running of a company. This will undoubtedly stand me in good stead. I am thoroughly enjoying working with people who are passionate about what they do. I also think it is amazing how you share your advice and knowledge to help other brands succeed.
And what's the biggest misconception people have about working in food & drink? I always thought our best-loved brands came out of multinational companies, but I am learning a lot of new ideas are being successfully driven by innovative start-up companies.
What advice would you give to other young people looking to get into the food & drink industry? If you are in the least bit interested in food and drink, go for it. It's become my hobby and career. As trends will ultimately change, one thing we do know is people will always need to eat and drink. There is no limit to the knowledge and learning in this industry. A career in this industry is sure to provide work satisfaction – it's fast-paced and will keep you on your toes!
What's your ultimate career dream? Now I'm in this industry I will stay in it. I have no idea what the future holds but for now I look forward to helping expand the Nice company in what is a massive and ever-growing industry.