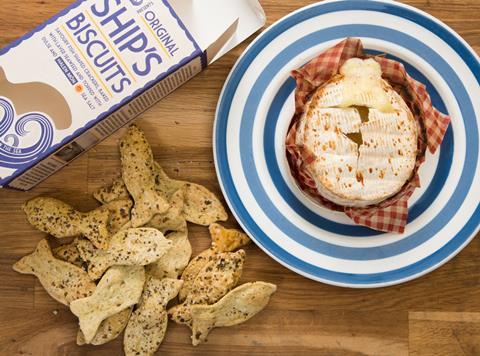 Marks & Spencer has launched a range of products to celebrate British and Irish cuisine that has been neglected or forgotten.
Rolling out this month to 411 stores under the Taste of the British Isles initiative are 19 branded lines from speciality suppliers and more than 300 own-label products.
Among the branded launches are three different savoury biscuits: The Pembrokeshire Beach Food Co's Ship's Biscuits (rsp: £3/62g) from south west Wales; and Stornoway Seaweed Oatcakes (£3/125g) and Stornoway Seaweed Water Biscuits (rsp: £3/150g) from Stag Bakery in the Isle of Lewis.
Other branded products listed under the Taste of the British Isles banner are Belfast Brew tea (rsp: £5/45g) from Northern Ireland's Suki Tea; Irish Brown Bread Crackers (rsp: £3/140g) from the Republic of Ireland's Sheridans Cheesemongers; and Blueberry Chutney (rsp: £4/220g) from Devon's Blueberry Brothers.
Alongside the branded products, M&S has introduced a range of more than 300 own label lines as part of the initiative. They include little-known local specialities such as Fidget Pork Pie from Shropshire; historical dishes such as Taffety Tart, popular in the 16th century; and inventive uses of traditional flavours in products such as Earl Grey spiced loaf and Rhubarb & Custard gourmet trifle.
"It's about time we celebrate our wonderful culinary history, which is why we've developed a collection that showcases our country's unique tastes at their best," said M&S head of product development Sandra Ziles.
| SCOTLAND | | |
| --- | --- | --- |
| Mara Seaweed - Dulse | £5.00 | 30g |
| Stag – Seaweed Stornaway Oatcakes | £3.00 | 125g |
| Stag - Seaweed Stornaway Water Biscuits | £3.00 | 150g |
| IRELAND | | |
| Suki Tea - Belfast Brew | £5.00 | 45g |
| Sheridans Cheesemongers - Irish Brown Bread Crackers | £3.00 | 140g |
| Ditty's Irish Smoked Oatcakes | £1.51 | 300g |
| WALES | | |
| Bacheldre Watermill- Oak Smoked Stoneground Strong Malted Blend Flour | £3.00 | 1kg |
| Aberffraw Biscuit Co - Traditional Aberffraw Biscuits | £4.00 | 225g |
| Aberffraw Biscuit Co - Bara Brith Aberffraw Biscuits | £4.00 | 225g |
| Halen Mon Anglesey Sea Salt – Pure Sea Salt Smoked over Welsh Oak | £6.00 | 100g |
| The Pembrokeshire Beach Food co - Ship's Biscuits | £3.00 | 62g |
| Eboni Taffi Sauce with Real Welsh Cream | £3.00 | 180g |
| SOUTH WEST & East | | |
| Huffkins Cotswold Fruits – Loose Leaf Fruit Tea | £5.00 | 125g |
| Blueberry Bros – Blueberry Chutney | £4.00 | 220g |
| Artisan Kitchen -Damson & Raspberry Jam | £4.00 | 200g |
| EAST ANGLIA & SOUTHERN COUNTIES | | |
| Kentish Cobnut Oil from Hurstwood Farm | £12.00 | 250ml |
| Scarlett & Mustard Pumpkin Oil | £10.00 | 250ml |
| Isle of Wight | | |
| Isle of Wight -Tomato Chutney | £4.00 | 300g |
| Isle of Wight -Tomato Juice | £1.50 | 200ml |