Whether it's meat alternatives or snack bars, the rise of pea protein products shows there's a big trend for the little ingredient. Here are 10 launched this year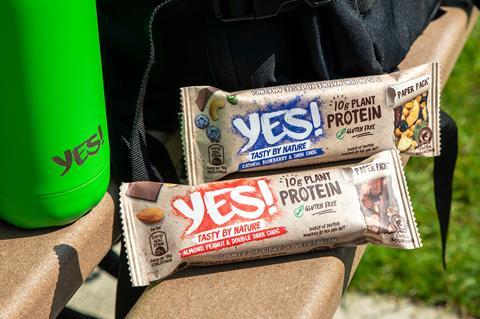 Yes
This month will see Nestlé expand its Yes snack bar range with two new flavours: Almond, Peanut & Double Dark Chocolate and Cashew, Blueberry & Dark Chocolate (rsp: £1.59/45g). Wrapped in recyclable paper packaging, the bars are vegetarian, gluten-free and boast 10g of plant protein each, which comes from peas and nuts. The supplier said it chose to tap the "emerging trend towards pea protein" as a way to "really stand out from the many other bars on the market".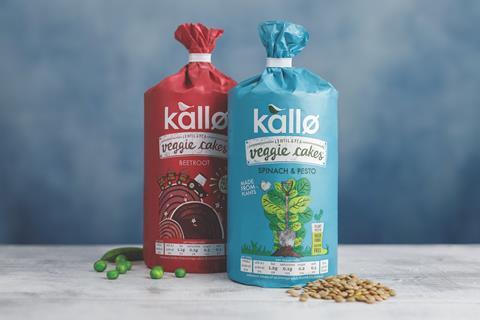 Kallø
You've heard of Kallø rice cakes. Now the Wessanen-owned brand has diversified into Veggie Cakes, which are instead made with green peas and lentil flour. Available in Beetroot and Spinach & Pesto flavours, the gluten-free and vegetarian cakes contain 40 calories and 2.4g of plant protein apiece. They rolled out to Waitrose, Sainsbury's and Ocado in May (rsp: £2.49/122g).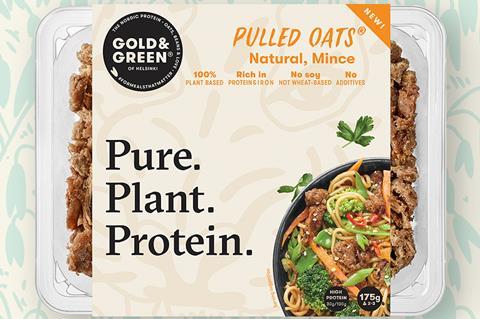 Gold & Green
After making waves in its native Finland and the Netherlands, plant-based brand Gold & Green launched a pair of mince alternatives into the UK in June. Described by the brand as "revolutionary", Pulled Oats are made with 21% oats along with just four other ingredients: pea protein, faba beans, oil and salt. Promising 30g of protein per 100g, the Natural and Tomato variants are on sale in Planet Organic (rsp: £3.99/175g).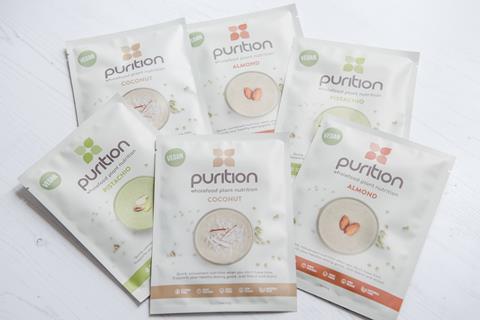 Purition
Natural nutrition company Purition added three vegan variants – Almond, Pistachio and Coconut – to its range in July. The meal replacement powders, which can be used to make shakes and smoothie bowls, are made to an 'enhanced' new recipe containing golden pea protein, organic sunflower, organic pumpkin and hemp seed. They are available online and at health food stores including Boots and Holland & Barrett (rsp: £22.95/500g or £2.49/40g).
Pulsin
Whether it's rice, soya, faba or pea, plant protein is a mainstay of Pulsin's range of products, with its website even allowing customers to shop by protein type. This year the brand expanded its offering of pea protein products with a trio of keto snack bars, which are all gluten-free and vegan. A Choc Fudge & Peanut variant launched in January, while Orange Choc & Peanut and Mint Choc & Peanut joined the range in May (rsp: £1.99/50g). The bars can be found at Amazon, Whole Foods, Superdrug, Planet Organic and Ocado.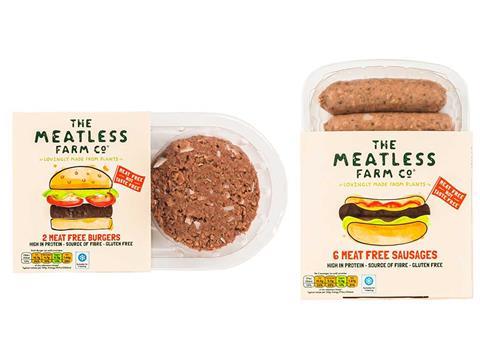 Meatless Farm
Following a recent reformulation of its recipes, Meatless Farm's vegan sausages and burger patties are now made with a combination of pea protein, potato fibre and other plant-based ingredients. The recipe is designed not only "to replicate the smokiness and succulence of meat", but is now free from soya and allergens, according to the brand. The reformulated products went on sale in Tesco, Sainsbury's, Morrisons, Asda and Ocado in May (rsp: £2.50).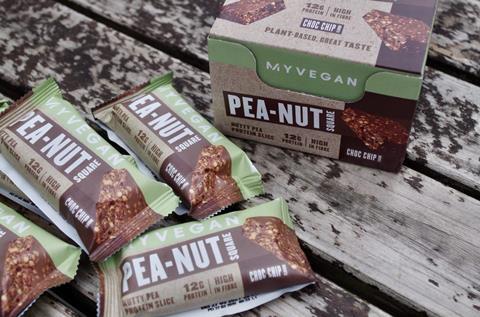 Myvegan
Positioned as "the perfect pick-me-up or post-workout snack", Myvegan's Pea-Nut Square range is made with pea protein, cacao butter, chocolate chips and roasted nuts. Each of the high-fibre bars, which come in Berry, Choc Chip and Chocolate Orange flavours, contains 12g of plant-based protein. The range hit the brand's online store in March (rsp: £19.99/ box of 12).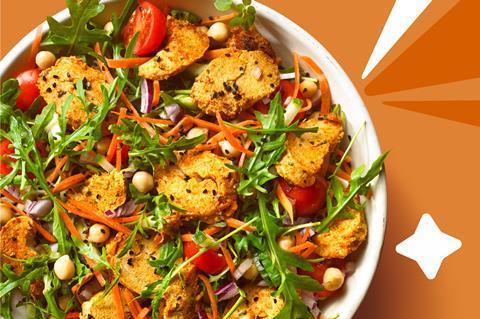 Squeaky Bean
Meat replacement brand Squeaky Bean says it uses pea protein in its vegan chicken-style pieces to give them "realistic texture". First launched in January, the range features three ready-to-eat varieties: Kick of Tikka and Sweet Smokey BBQ are on sale in Tesco, Sainsbury's and Co-op, while Thai can be found in Tesco (rsp: £3/160g).
Sproud
Claiming to provide more protein than both oat and almond drinks, Sproud is a vegan milk alternative "powered by peas". The sustainable drink is made from yellow split peas, which "use minimal water, land and carbon to be produced", according to the brand. Sproud Unsweetened, which replaced the brand's Original variant in May, can be found in the ambient sections of Waitrose, Ocado, Amazon and independents (rsp: £1.80/1L).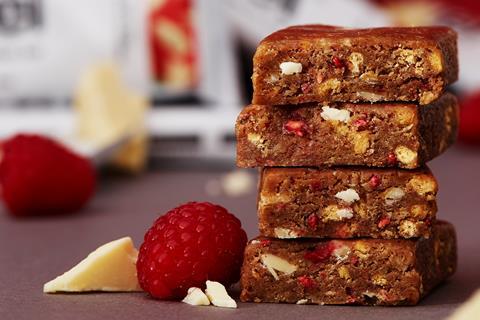 Huel
Pea protein is one of the main components of Huel's 'nutritionally complete' range, which features powders, RTDs and bars. The newest of these is a Raspberry & White Chocolate bar, which launched on the brand's website in June (rsp: £1.30). The vegan snack also contains gluten-free oats, brown rice, coconut and flaxseed, along with Huel's "unique blend of vitamins and minerals".