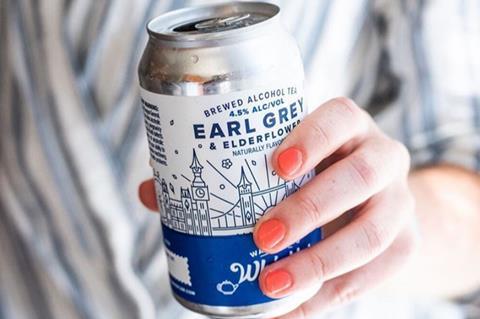 AB InBev could be poised to bring its 'hard tea' brand Wandering Whistler to the UK.
The brewing giant applied to register a trademark for Wandering Whistler, which is currently only available in the US, with the Intellectual Property Office this week.
The brand calls its drinks "craft-brewed alcohol teas", which are made by adding sugar and yeast to tea and fermenting the mixture, before adding more tea and 'botanicals'.
Flavours unveiled in the US so far include Jasmine, Chai and Earl Grey (both 4.5% abv).
A spokeswoman for AB InBev played down the potential for a UK launch, saying there were "no current plans" and that the applying to register the trademark was "standard procedure".
But it comes amid a growing vogue for 'hard' versions of soft drinks and drinks that blur the boundaries between alcohol and other categories that has seen major suppliers enter the fray.
Kopparberg, for instance, was one of the first big booze brands to launch an 'aqua spritz' (in essence, a boozy sparkling water) called Balanz in January, while Molson Coors recently went in the opposite direction, launching a hopped sparkling water called Wellraiser earlier this month.
AB InBev - or Budweiser Brewing Group, as it is now known in the UK - has too been experimenting beyond beer with its growing innovation arm, ZX Ventures: last month saw it launch an RTD orange spritz brand, called 'Sincerely Sabella', into Ocado and indies.