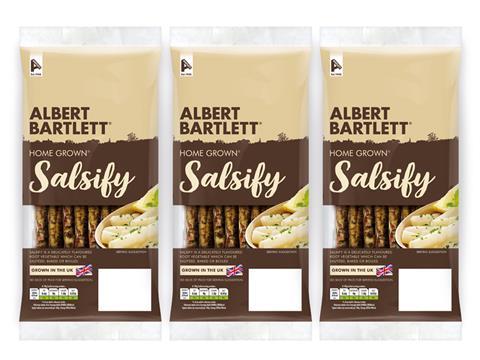 Albert Bartlett is set to branch out of potatoes by supplying "forgotten" root veg salsify under its brand for the first time.
Its 350g (rsp: £2.99) packs of salsify – which resemble parsnips – are set to roll out across 100 Waitrose stores from tomorrow (8 November) in both black and white variants.
Salsify was popular in the UK during the Victorian era and continued to be widely used on the continent, the supplier said.
It has recently returned to prominence via TV cooking programmes such as Great British Menu and the support of high profile chefs including Bartlett brand ambassador Michel Roux Jr and Hugh Fearnley-Whittingstall.
The veg was described by the company as tasting like a "mild artichoke with a trace of liquorice", and features suggestions to boil, sauté or bake the veg on the front of packs.
"Waitrose regularly challenges us on innovation, differentiation and new product development," said an Albert Bartlett spokeswoman. "Each week we see recipes in the press featuring salsify and felt there was an obvious opportunity – sometimes looking back is a good start when thinking forward."
The potato specialist grew its first harvests of salsify in Cambridgeshire and Girvan, South Ayrshire, with the expectation supply would continue into the spring.
"Salsify was generally favoured in Victorian England due to its versatility, especially during the winter months," added Waitrose vegetable buyer Gary Grace.
"Over recent years we have seen many of the traditional cuts of meat come back into favour and we hope that customers will feel the same about salsify and enjoy this vegetable once again."