Brands are increasingly shunning expensive, permanent NPD in favour of more headline-grabbing limited editions. But are they preventing genuine innovation from breaking through?
Turns out Tinder users aren't the only ones struggling with commitment. Fmcg brands are becoming increasingly hard to tie down. Venture down the supermarket aisles and they will likely be crowded with limited-edition SKUs that are here for a good time, not a long time.
Everyone's at it. Coca-Cola has launched a new platform for limited editions called Coca-Cola Creations – resulting in the launch of its 'space-flavoured' Starlight variant in February. Mondelez has injected new life into Twirl with limited-edition flavours such as Orange and Caramel.
The list goes on. From White Jaffa Cakes to Strawberry Coco Pops, through to weirder fare like Camden Town Brewery's collaborative ale with Marmite, there's simply no escaping these products.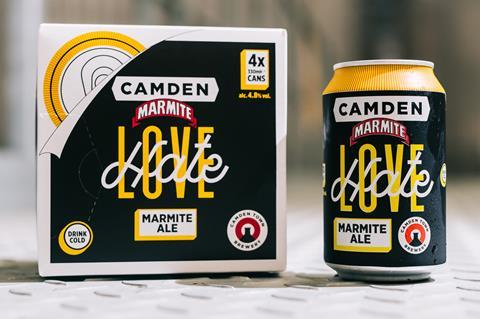 The increase in these launches may seem no bad thing. A headline-grabbing new flavour can be a cheap and easy way to attract interest. But critics argue their sheer proliferation is stifling 'proper' innovation, and, in some cases, potentially tarnishing the hard-won heritage and reputation of long-standing brands.
So are these worries founded? Are fmcg brands really afraid to commit to proper NPD right now? And do these launches tell us about the market?
More with less
From a supplier perspective, the case for limited-edition launches is clear. Put simply, they allow you to do more with less. They don't require the same resources – in terms of time, labour, or cash – as full-scale NPD.
"I've worked in huge organisations where you spend so much time trying to validate whether a piece of NPD is going to work and battling with stakeholders to persuade them," says Ross Farquhar, marketing director at Little Moons, which has just launched a limited Iced Latte flavour exclusively into Ocado.
By contrast, limited editions are "relatively low investment and low risk", says Big Black Door founder and former Weetabix marketing boss Gareth Turner. "You have to do a production run and some comms, but it is cheaper than doing a full scale, all-in NPD launch."
Plus, if the plan is to eventually add the flavour or format to the core range, it's a nifty way of doing some real-time consumer research. Insight can be gathered from the sales coming in through the tills. Which beats paying for research or conducting focus groups before you've even made any money.
"As well as offering consumers variety by offering new and engaging limited-edition ranges, [these launches] offer us valuable insights that inform our strategies," points out Susan Nash, trade communications manager at Cadbury owner Mondelez.
In the case of Cadbury, the runaway success of Twirl Orange, which sold out quickly in many retailers, led to the flavour joining its core range.
"If the product is selected to become a permanent addition to the range, we can use the learnings from the initial limited-edition launch to tailor the permanent rollout for retailers," says Nash.
What's more, Mondelez realised there would be an audience for other new Twirl flavours, such as its latest Caramel limited edition.
Of course, not every limited edition is designed to become a permanent fixture. "We did six seasonal editions last year like a fish & chip mochi," says Little Moons' Farquhar. "There's no way that's ever going to join a core range."
But in these cases – especially with the more outrageous, eyebrow-raising experiments – the marketing value can be immense.
"Some people loved it and some people hated it, but it gave [all of them] a talking point and a reason to think of Little Moons," Farquhar adds. "It is inherently more talkable. If we were just pumping out TV ads, we couldn't expect people to be talking about Little Moons in the way I want them to."
These launches can even prove a better way of grabbing consumer attention than some traditional media channels – as long as you don't use the tactic too often. "It's a great way of getting attention but not necessarily paying for it through media. When we announced our new Iced Latte flavour it was one of the most engaged with posts on Instagram in months."
Plus, there is an appeal to retailers, who are desperate to stand out from the competition but equally keen to avoid over-complicated ranges. So a temporary launch that brings "bespoke excitement", as Big Black Door's Turner puts it, can build some serious goodwill.
Another advantage is that, when executed with the right partner brand, limited-edition launches can allow suppliers to tap channels they would never otherwise have played in, such as food to go and hospitality.
Farquhar points to Pip & Nut's recent collaboration with Crosstown Doughnuts as an example. The partnership saw the former roll out a Cinnamon Scroll Almond Butter inspired by Crosstown' s doughnuts. Crosstown, meanwhile, created a new doughnut inspired by Pip & Nut's almond butter.
Neither brand played in the other's channel, but they both had similar demographics – and everything to gain from such a partnership.
Even launching limited editions in existing channels can have a similar effect. "If you can partner with someone in a different category, you might be able to tap into their sales team and different buyers to grow depth of distribution," adds Turner.
'Not proper launches'
But critics highlight a more damaging side to this trend. For starters, a lot of this NPD simply isn't that good.
"These launches aren't proper launches," says David Sables, CEO of Sentinel Management Consultants. "There's no proper R&D behind it, no science behind it, no marketing budget to launch it, and no will to create a new category."
Sables argues many limited editions are a simple case of "search and reapply" – reactive and opportunistic moves rather than considered and bold ones.
At the same time, he can understand why suppliers are going down this route. "Everybody is a little bit burned in the marketplace because the level of competition is so high and so the amount of [NPD] failures is very high," he explains.
True NPD also comes at a cost."In the past, big brands would do micro market tests. You would take the whole of Carlisle and create a mini market because it had its own TV area. You'd get the distribution with a retailer, gather the data, and launch with advertising. But that doesn't exist any more."
"There's no proper R&D behind it, no science behind it, no marketing budget to launch it, and no will to create a new category"
That's especially true today, as the market battles with the effects of the cost of living crisis. "When the market is under such pricing pressure and the retailers have become a great machine that keeps prices down, that's led into suppliers finding it difficult to put relevant cost prices up and justifiable cost prices through – margins have become suppressed," he says.
At the same time, replacing true NPD with the quick win of limited editions can have a cost of its own. In the worst case, it can undermine the role of innovation across an organisation, says Farquhar. "It's very tempting to go 'what can I chuck out to market that's easy to make?' And you become hooked on it with pressure to lap it the next year."
What's more, "if there's no intersection between the innovation and your core brand, the brand stretch snaps and it just looks like a PR stunt," says Turner. This could cause "potential damage – quite aside from the effort and the money it's taken to launch", he warns.
Brands can easily "devalue themselves by constant limited editions, wigigs and promo offers," agrees Product Chain head of retail Rachel Way.
"These [launches] are becoming their bread and butter and it's clear consumers don't purchase off-promo," she says. "Shoppers will buy on a wigig or a promotional price but often the promotions don't drive repeat purchase in the long run."
Which raises the question as to whether this is the kind of innovation shoppers actually want to regularly put in their baskets. "I think the fact that often the experimental SKUs are delisted quickly answers that question," says Way.
Farquhar points out some notable brands have found it hard to regain their position in the market after being "killed off by a whole load of flavour innovation".
So, all things considered, the publicity that comes with these limited editions might not be as low-cost as it seems. While launching headline-grabbing new flavours and formats can be a great way of getting attention without splashing the cash on traditional advertising, it's not a like-for-like replacement.
"Media might look expensive, but it's straightforward," says Farquhar. "You pay X and get X back. With limited editions there's a whole load of people who have to work to make it happen. But that cost is hidden in business overheads."
Unfair advantage?
Lastly, there's the potential effect of big bang limited editions on smaller suppliers. Product Chain executive director Fiona Esom suggests it is simply another way for larger brands "to command space and stifle innovation from other innovative/smaller brands".
Sables agrees it can result in less space for true innovation. There are "limited slots for activity and they are being clogged up by average extensions – blocking the potentially more interesting efforts of smaller business innovation", he says.
Despite the criticism, though, there's little chance of limited editions tailing off. The likes of Coca-Cola, Kellogg's, McVitie's – to name a few – are investing serious cash into these launches. And, as challenges mount in the supply chain and the cost of living crisis bites, the appetite from retailers is unlikely to wane either.
So the lesson is perhaps simply one of caution. As the market becomes ever more flooded with limited editions, suppliers will need to be careful with how far they stretch their brands. Lest they find shoppers are less entertained than they initially thought.