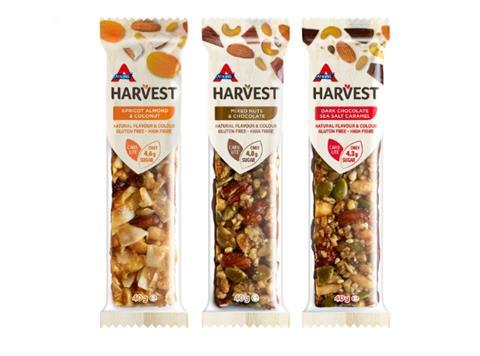 Low-carb brand Atkins has added its first natural snack bar lineup, featuring raw ingredients.
The three-strong Atkins Harvest range contains between 10.8g and 12g of naturally occurring sugars per 100g – which was "50% less sugar than other nut and seed bars on the market" the brand claimed. The bars contain no artificial sweeteners, colouring or preservatives.
Dark Chocolate & Sea Salt Caramel, Apricot Almond & Coconut, and Mixed Nuts & Chocolate are rolling out to Tesco and Superdrug (rsp: £1.85/40g).
The launch of Harvest came in response to high demand for natural eating, said Atkins UK managing director Peter Valentine. "The Atkins portfolio continues to grow, and we are confident we have a product that caters to all individual tastes and needs."