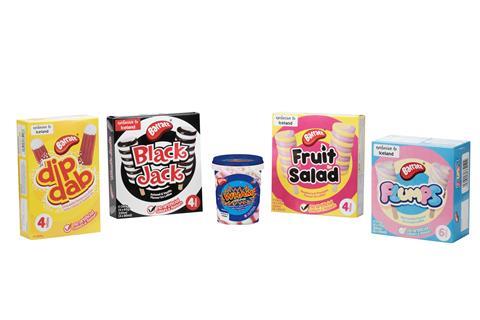 Barratt is to launch a five-strong range of ice creams inspired by its classic sweets.
They are: Black Jack Ice Cream Lollies, Fruit Salad Ice Cream Lollies, Flump Ice Cream Lollies, Wham Ice Cream Tub and Dip Dab Ice Lollies with a sherbet sachet.
Each lolly contained between 55 and 85 calories, while the ice cream tub was 138 calories per serving, making them "a great portion and calorie-controlled treat", said the brand.
They will roll out exclusively at Iceland on 20 April (rsp: £2.50), with the Black Jack, Fruit Salad and Dip Dab lollies in packs of 4x65g, Flump lollies in packs of 6x35g and the Wham tub 450ml.
Barratt category and marketing director Russell Tanner said the brand had been "looking for a way to broaden the appeal" of its confectionery lines, adding the NPD would "add a spark of fun and excitement to the frozen dessert aisle".