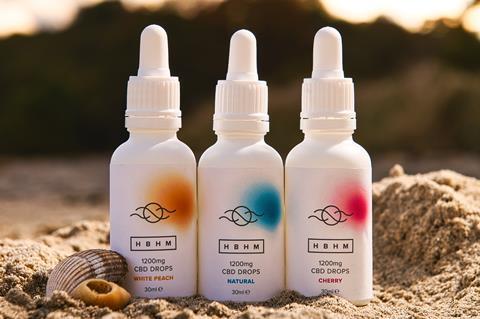 BrewDog co-founder Martin Dickie has launched a CBD brand.
Called HBHM, an acronym for Healthy Body Healthy Mind, the brand has debuted with a range of three CBD isolate oils, designed to be taken orally.
The trio – Cherry, White Peach and Unflavoured – each contain 1,200mg CBD isolate per pot (40mg per serving), MCT oil and natural flavourings (rsp: £45/30ml).
The launch is being funded by Steadman Partners, the Aberdeen-based private equity firm Dickie himself owns.
Dickie, who began using CBD to help him sleep while travelling in 2018, said he wanted HBHM to "be a company that focuses on the wellbeing of our customers and the wellbeing of our planet".
Having discovered CBD overseas, he said he was disappointed by what he saw as a lack of transparency with some of the products available in the UK.
"It's like anything: if you want something that isn't available, you should make it," he said.
He said HBHM would maintain transparency by putting its products through third-party testing to ensure they contained nothing other than the ingredients listed on the pack.
HBHM was also the UK's first CBD brand to be carbon neutral, he claimed. Its product packaging was recyclable and was made from recycled materials "where possible", with Dickie hoping to "offset" its carbon footprint by planting trees in the forest at his home in Stirlingshire.
"We don't want our products to have a negative impact on our beautiful planet," he said.
He added he hoped the move would push other players in the market to become carbon neutral or negative. "It only takes a few people to push a change," he said.