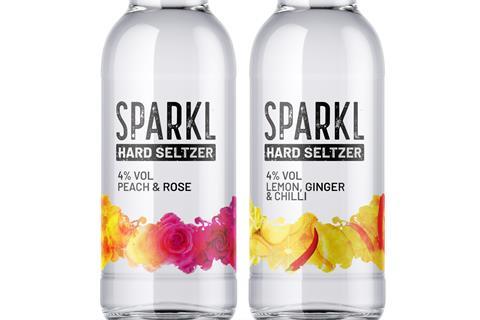 The 'hard seltzer' trend is gathering steam, with numerous British drinks suppliers looking to cash in on the growing interest in alcoholic sparkling waters.
Something & Nothing, which currently sells a range of non-alcoholic flavoured seltzers, is poised to launch a full range of 'spirited' seltzers next year, The Grocer has learned.
Confirming the move, the brand's co-founder, Olly Dixon, called it a "natural move" for Something & Nothing, adding the drinks would have a "more grown-up flavour profile, more interesting flavours, no added sugar, and low-calorie rather than no-calorie".
Meanwhile, Ishke Brands, a new business co-founded by former Pernod Ricard US strategy director Stephen O'Neill, will roll out a range of bottled hard seltzers called 'Sparkl' over the coming months.
The brand will launch with two flavours: peach & rose and lemon, ginger & chili. O'Neill said Ishke Brands would focus primarily on the on-trade before moving into retail, but expected "a huge proportion of the sales will obviously come from the off trade".
The drinks themselves would be low-calorie, Gluten free and flavoured naturally, he added. "It's more premium and we're trying to position it so that it isn't just seen as 'RTD mark 2'. But [Seltzers] will obviously be positioned in the RTD shelves so it will be important that they stand out."
It comes as The Grocer revealed last month US smash hit White Claw was likely heading for a UK launch, after its owner Mark Anthony brands applied to register the drink as a trademark with the intellectual property office.