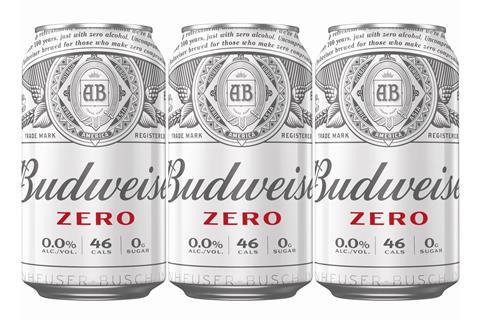 Budweiser has called time on its non-alcoholic Budweiser Prohibition lager after three years on the market, and will replace it with a brand new Budweiser Zero beer, The Grocer can reveal.
Budweiser Zero will take over the listings formerly held by Prohibition, but has a different recipe, containing zero sugar and 46 calories per 330ml can - more than half the 111 caloriesof can of Prohibition (rsp: £3/4x330ml).
It was "brewed with premium Budweiser barley, hop and malt through the same expert beechwood ageing technique that delivers the smoothness of Budweiser, along with a revolutionary 4x-cold-filtration process", said owner Budweiser Brewing Group, adding it had been able to create the new drink "thanks to new developments in no-alcohol brewing" since the debut of Prohibition.
Budweiser Prohibition launched in late 2017, but struggled in the supermarkets: latest Nielsen data shows it lost a fifth of its value over the past 12 months, dropping 19.5% to £2.8m [52 w/e 25 January 2020].
It faced steep competition from premium rivals such as Heineken 0.0% and Peroni Libera, which made respective value gains of £6.3m (76.7%) and £3.3m (13,992%) last year [Nielsen].
Budweiser Brewing Group has said 20% of its global volumes would come from low and non-alcoholic drinks by 2025.
Willam Reed - the publisher of The Grocer - has launched an exhibition exclusively for the low and non-alcoholic drinks sector. For more information visit www.low2nobev.com