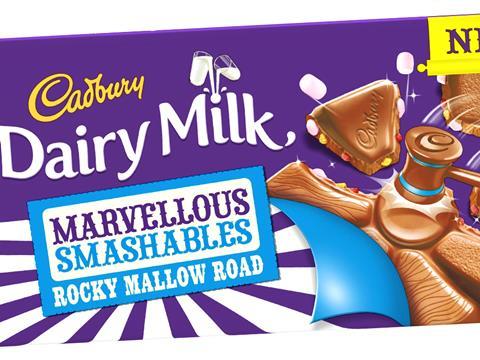 Cadbury has unveiled a new format and flavour for its £50m Marvellous Creations brand.

From next month, the Mondelez-owned brand will be rolling out Marvellous Smashables, 180g tablets of chocolate that are made using a new mould and are designed to be 'smashed' into pieces before being shared out.

It will be used for new flavour Rocky Mallow Road - which contains pink marshmallows, strawberry jellies and shortcake biscuit pieces - and the format will replace large bars of existing Marvellous Creations flavour Jelly Popping Candy.
Mondelez had been hoping to offer Smashables bars when it first launched Marvellous Creations in 2013 but at the time had struggled to make the format work.
"When we launched Marvellous Creations, we wanted to unlock more fun sharing moments and wanted to offer something similar to the ritual of opening a Terry's Chocolate Orange," said Mondelēz marketing director Matthew Williams, adding that a lot of work had been required to develop a shape that didn't break in production - particularly when force was applied to get the bar out of its mould.
Smashables will carry a £2.49 rsp for 180g, while the previous 200g Marvellous Creations bars were £2.59 for 200g. "The cost of making a chocolate bar isn't just about raw ingredients, it is also about the factory and the people and many other things, and we can't offer all the weight reduction back to our customers," said Williams.
Jelly Popping Candy and Rocky Mallow Road will also be available in the Marvellous Creations countline format, but Mondelez is axing countline and sharing bar formats of its Banana Caramel Crisp and Cookie Nut Crunch flavours.
Williams said Mondelez needed to ensure it had two bestsellers in the range given the rationalisation taking place in the grocery marketplace.
It is important for us and our retail partners to drive excitement in the category, which then turns into the net revenue growth we are all looking for
Sales of Marvellous Creations bars - which had been one of the biggest fmcg launches of 2013 - plummeted 25% last year, falling by £11.3m to £33.7m [Nielsen 52 w/e 3 January 2015]. The overall Marvellous Creations brand remained in growth, however, with extensions such as bags and eggs bringing in sales of £17m in 2014. The decline in bars contributed to overall sales of Cadbury Dairy Milk slowing from double-digit growth in 2013 to just 0.4%.
Williams admitted the brand had brought less strong innovation to market in 2014, pointing out this year had already seen the launch of Cadbury Dairy Milk Puddles - moulded bars with eight 'puddles' containing a soft filling - and now Marvellous Smashables.

"It is important for us and our retail partners to drive excitement in the category, which then turns into the net revenue growth we are all looking for," he said, adding that Rocky Mellow Road had outscored Jelly Popping Candy in product testing.

"I won't tell you it will be bigger than Jelly Popping Candy but it is also a great combination of textures and flavour that sounds crazy but is widely acceptable to consumers."