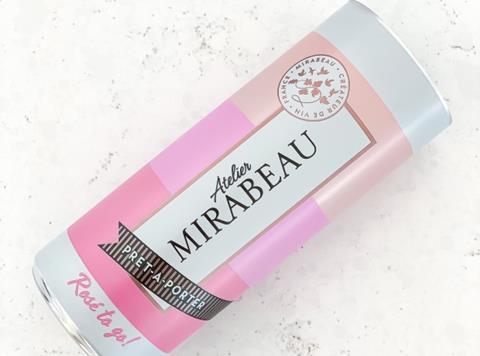 French winemaker Mirabeau en Provence has netted a major deal with Waitrose to stock its canned rosé.
The brand's first canned SKU, called Pret-a-Porter (13% abv) is due to roll into 250 Waitrose stores in the second quarter of 2019.
Canned wine had "become the packaging format with the highest growth in the US for good reason and is driven by solid consumer demand and environmental considerations", said Mirabeau co-founder Stephen Cronk. The can is made of aluminium and fully recyclable.
"We understand that today's lifestyle demands products that are portable, beautiful and solid in terms of quality and provenance," he added.
The drink itself is made with a combination of Syrah and Grenache grapes "blended for pretty aromas of lush red fruit" and "naturally dry, typical for the (Mediterranée) region, with less than 1g of sugar per litre".
The rsp per 250ml can is yet to be confirmed.
The brand first made headlines last year when it launched a range of 'frosé' ice lollies into Waitrose - this year it plans to extend its range of ice lollies with two more flavours.
Waitrose already stocks a number of canned wine SKUs, including, has predicted the format will gain greater prominence in 2019 thanks to its sustainability and convenience credentials.
Last year saw the launch of several new canned wine brands, such as The Uncommon - the first English wine (it is made using grapes from Surrey) to launch into the format, which hit Selfridges in the summer.