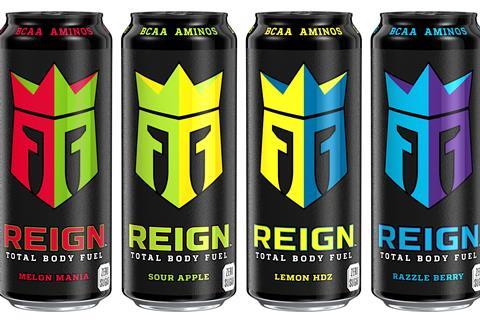 Coca-Cola European Partners is hoping to lure Instagram fitness obsessives with a new zero-sugar functional energy drink brand, called Reign.
The brand – a spin-off of Monster Energy – has debuted with a four-strong range of drinks: Melon Mania, Sour Apple, Lemon HDZ and Razzle Berry. They are all zero sugar (the drinks are sweetened artificially), zero calorie and naturally caffeinated with green coffee beans.
CCEP is touting the drinks' functional benefits: they contain branched-chain amino acids, which are billed as helping to prevent protein muscle break down, vitamins to reduce fatigue, and L-arginine, which is commonly used to regulate blood pressure.
Reign will be sold in 500ml cans with "warrior-themed" designs, in plain and £1.49 price-marked packs. It is designed to be consumed before or after a workout.
The drink is already available in the US, where CCEP said it had achieved 25% market share of workout energy drink sales within eight months of launch [Nielsen 52 w/e 24 August 2019].
CCEP vice president for commercial development Simon Harrison told The Grocer the brand would target "consumers that play active sports and then a separate type of consumer who is more image-conscious, pretty active on social media – if you go into a gym you will see more and more of them taking photos and pictures of themselves working out".
The NPD would be "positioned very differently to Monster", he added, and would be marketed primarily with event sponsorships, sponsored digital content and in-store PoS materials.
It has signed up Game of Thrones star Hafþór Júlíus Björnsson, who played gigantic killer The Mountain in the hit show, to feature in promotional materials, as well as other "fitness influencers".
"We need to talk straight to the consumer here by doing digital, being present at events, being in the gym and being online" said Harrison. "This is a well-trodden path for Monster."
Christmas roster
CCEP will roll out a new 'Festive Clementine' version of Diet Coke this Christmas, which will roll out in 500ml and 1.25-litre PET bottles from the end of October.
It will also resurrect last year's Coca-Cola Zero Sugar Cinnamon, the limited-edition drink it debuted last Christmas. Both will launch with new festive pack designs.