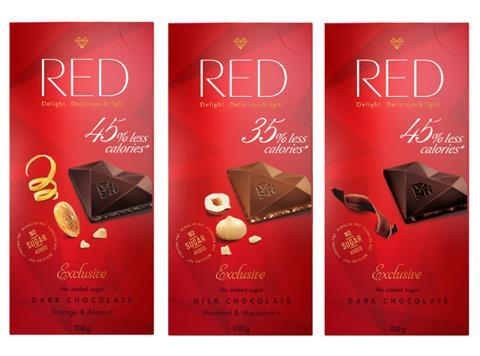 Swiss supplier Chocolette Confectionary is rolling its low-calorie chocolate into the UK for the first time.
Currently sold in Scandinavia, Central Europe and Russia, the Red selection of "guilt-free" chocolate bars with no added sugar is landing now on WH Smith shelves in Extra Dark; Hazelnut & Macadamia; Nut Filling and Orange & Almond (rsp: £2.49/100g-110g).
Calories per 100g range from 305 to 382, with sweetness coming mainly from erythritol, maltitol and stevia. In comparison, a standard bar of Cadbury Dairy Milk, the UK's biggest-selling chocolate brand, contains 534kcals per 100g.
A Red praline box is also available: Delight Milk Chocolates with Smooth Nut Filling (rsp: £4.99/133g) promises "only 42 calories for each little diamond shaped chocolate" – the equivalent of 382kcals per 100g.
"We are very excited to see our first listing in the UK with this unique premium product range," said Alex Tyumenin, MD of Chocolette Confectionary. "It is a delicious-tasting product and is also good for you, which we hope will capture the attention of chocolate lovers across the UK."