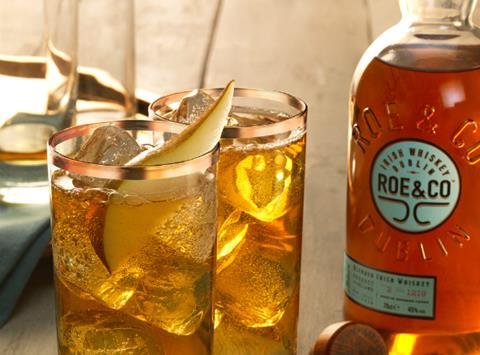 Diageo has revealed it is reviving the Roe & Co name after nearly a century, in a bid to enter the premium Irish whiskey market.
The move was announced as the drinks giant unveiled plans for investment in an £18.6m whiskey distillery at St James's Gate over the next three years, subject to planning.
The new tipple is made from the "finest hand-selected stocks" of Irish malt and grain whiskeys and aged in bourbon casks, and comes with the "signature smoothness of Irish whiskey with remarkable depth of flavour".
The first of the non-chill filtered blend, bottled at 45% abv, will be available in "key European cities" from the beginning of March this year as part of Diageo's reserve portfolio (rsp: £30).
Diageo said it had identified "a clear opportunity" in Irish whiskey to drive overall growth via premiumisation, adding the new Roe & Co had been designed to reflect modern, contemporary luxury in everything from pack to liquid, and with a focus of making the spirit more prominent in Europe's booming cocktail culture.
"In crafting Roe & Co we explored the demands of today's consumers for more premium drinking experiences and the desire of bartenders for an adaptable, flavourful whiskey that works in both traditional and new cocktails," said Tanya Clarke, GM of Reserve Europe.
Analyst at SocGen Jamie Norman said: "This is to participate in the booming sales growth of the category, forecast to continue well into the 2020s, that has been consistently and brilliantly led by Pernod Ricard with Jameson. What remains to be seen is how exactly it will be pitched versus Jameson, which is marketed as a lifestyle/heritage brand and not really an Irish one."
Named in honour of whiskey maker George Roe, who helped build the golden era of Irish whiskey in the 19th century, the resurrected Roe & Co distillery will be situated a stone's throw away from where the original distillery once stood.
"As neighbours for hundreds of years, George Roe & Co and Guinness were the two biggest names at the heart of Dublin's historic brewing and distilling quarter - Diageo will now build on this rich heritage," said Clarke.
Diageo acquired Bushmills from Allied Domecq in 2007 but sold it to Jose Cuervo in exchange for Don Julio.