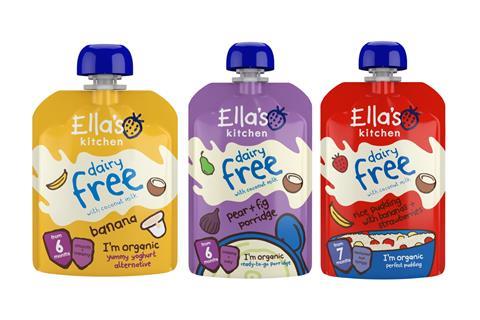 Ella's Kitchen has launched a new range of dairy-free babyfood pouches.

It has created a trio of flavours - Banana Yummy Yogurt Alternative (90g), Pear & Fig Porridge (100g), and Rice Pudding with Bananas & Strawberries (80g) - which are organic and made with coconut milk instead of cows milk (rsp: 99p-£1.30).

Although there are many babyfood products that are naturally dairy-free, Ella's claimed it was the first to create a dedicated dairy-free yoghurt alternative, designed specifically for babies. They are suitable for babies from the ages of six/seven months.

The brand was "continually looking for new ways to help little ones develop a healthy relationship with food, with dishes that are a yummy journey for all the senses", said Ella's Kitchen CEO Mark Cuddigan.

There "hasn't been enough variety for little ones who are dairy-free or have dairy intolerance, so we wanted to use our weaning expertise to create a range", he added.

The pouches rolled into Asda and Amazon this week, with Morrisons and Ocado to follow in March, and Waitrose from April.