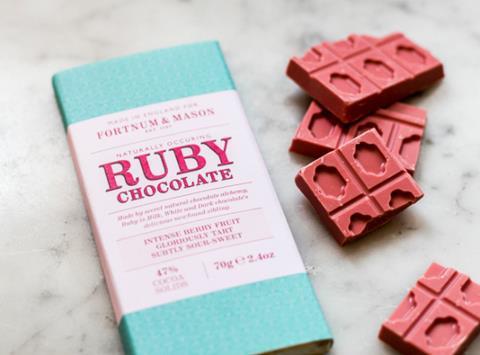 Fortnum & Mason has followed the example of Nestlé by unveiling naturally pink chocolate.
From tomorrow (13 April), the high-end London retailer will offer a confectionery selection made with ruby chocolate – the new "reddish" chocolate variety unveiled last September by Swiss cocoa giant Barry Callebaut after "many years" of development. Its flavour is said to be a "tension between berry-fruitiness and luscious smoothness".
Fortnum's new range comprises a bar, a trio of truffle variants (Pink Himalayan Salted Caramel, Pink Gin Ganache and Pink Marc de Champagne) and a hot chocolate mix (rsp: £6.50-£13.50). It will be available from the retailer's flagship Piccadilly store and via its website.
The launch marked "another milestone in Fortnum's storied history of chocolate discovery and imagination" said the 311-year-old business, which until the 1920s produced chocolate in a micro-factory on the sixth floor of its Piccadilly premises.
Earlier this week, Nestlé launched a pink Kit Kat made using ruby chocolate. It will be available from 16 April in Tesco as a four-finger bar (rsp: 85p/41.5g).