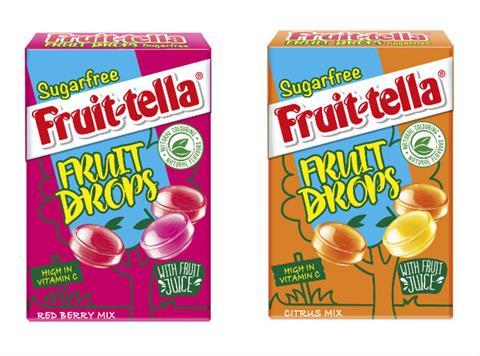 Perfetti Van Melle has extended its Fruittella portfolio with the brand's first hard-boiled sweets for UK shoppers.
Sugar-free Fruit Drops are the latest addition to Fruittella's growing selection of no-sugar and reduced-sugar confectionery. The two variants, Citrus Mix and Red Berry Mix, are sweetened with isomalt, acesulfame K and sucralose, and have added vitamin C.
Fruit Drops' launch – to be backed by a £2m spend – came "with 92% of UK consumers now consciously purchasing reduced sugar products across all categories", said Perfetti.
The new candy will be available from later this month in a flip-top pack (rsp: £1/45g). It follows Fruittella's first sugar-free and reduced-sugar sweets – Fruit Foams, Fruit Gums and 30% Less Sugar strawberry chews – all of which were unveiled in January 2017. Fruittella 30% Less Sugar expanded at the start of the this year by adding Gummies and Jelly Foams variants.
Fruittella was now "a top ten best-seller in the sugar-free market" said Matthew Navier, brand manager at Perfetti. "As well as the sales opportunity that sugar-free products represent, it is now more important than ever to conform to government guidelines and guidance from Public Health England with a responsible variety of products."