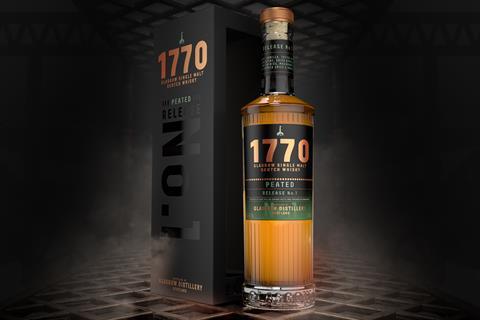 The Glasgow Distillery has created what it claims is the city's first-ever peated single malt scotch.
The dram, called 1770 Peated (46% abv), is matured in first fill ex-sherry casks and finished in virgin oak. It is available now to pre-order through the brand's website (rsp: £49/70cl).
The liquid itself was "a sublime and sophisticated smoky single malt, with hints of flamed orange zest and rich caramel toffee leading to various dark earthy fruits". The finish was "long and smooth with lingering notes of macadamia and spice", said the brand.
"Our peated run was originally a much smaller percentage of our overall production but when the first spirit came off the stills, the distillers told me I had to taste it," said the brand's co-founder and CEO Liam Hughes.
"Within the hour, Mike (my fellow co-founder) and I ordered three times the quantity of peated malt we had originally planned. The quality of the spirit we were tasting was so good, we just knew we needed more."
Glasgow Distillery last week announced it had acquired a further two whisky stills, which will boost its production capacity to approximately 440,000 litres per year.
2018 saw the brand sign a deal with Halewood Wines & Spirits to distribute its Makar Gin and G52 Urban Craft Vodka. But it ended the relationship this month, taking its sales and distribution back in-house.