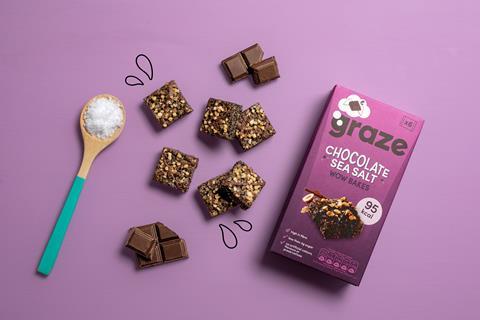 Graze has unveiled Wow Bakes, a range of snack bars promising fewer than 100 calories per portion.
The oat-based NPD contains as little as 11g of sugar per 100g – which was "around half the amount of sugar than in the average cereal bar" according to Graze.
Intended to be "a wholesome sweet treat", Wow Bakes will roll out later this month to Tesco in a multipack of six 20g bars (rsp: £2.69) across Chocolate Sea Salt, Honeycomb Crumble, Sticky Toffee and Lemon Drizzle.
The launch was "just another step in our mission to help consumers enjoy healthy eating" said Graze chief brand officer Pia Villa.
It comes after the brand announced a move last month to ramp up its healthy eating credentials, kicking off an initiative to halve the sugar content of its cereal bar portfolio.
The overhaul follows 18 months of recipe development, which will see chicory root fibre used as an alternative to sugar by 2020 across the entire range of Graze bars.
"We plan on continuing to push the boundaries of healthy snacking innovation in order to provide delicious, nutritious products for our grazers," Villa added.
Wow Bakes arrives three months after Graze became part of Unilever in a £150m acquisition by the Anglo-Dutch supplier to accelerate its presence in healthier food.