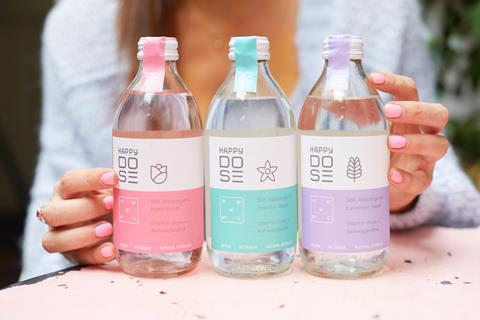 Startup Happy Dose has launched a trio of bottled drinks with 'botanical' flavours it claims deliver a "natural mood boost".
They are: Jasmine, Lavender and Rose, which are billed as containing "100% of your daily dose" of vitamins C, B3, B6, B7 and B12, as well as ashwagandha – an adaptogen the brand claims helps the body adapt to stress.
The have have initially launched into specialist retailers and the brand's online store (rsp £3.99/330ml).
Founder Hurriyah Butt told The Grocer she was "in talks with retailers" about potential listings next year.
Butt founded the business as a wellness consumer working in finance. She was interested in mental wellness as opposed to products that focused entirely on looks, she said.
She added she wanted to create something to "make people consider nutrition as a way to make them feel happier, not just to make them skinny or to give them shiny skin".
The drinks were designed for daily consumption, Butt added, recommending they be drunk "in advance of" any stressful upcoming events.