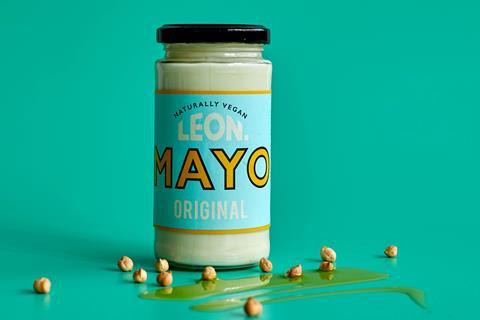 Healthy fast food restaurant chain Leon has launched its first-ever grocery range into Sainsbury's, with plans to make retail a significant part of its business over coming years.
The brand has created a 14-strong range spanning multiple categories, which it said would "pave the way" for an ongoing pipeline of launches "in 2020 and beyond".
The full lineup includes: Aioli; The Original Mayonnaise; Ketchup; Chilli Sauce; Beetroot Ketchup; Tamarind Brown Sauce; Extra Virgin Spanish Olive Oil; Cold Pressed Virgin Avocado Oil; Balsamic & EVO Oil Dipping Oil; Balsamic Vinegar; Super White Sourdough Loaf; Quinoa Sourdough Long; Sweet Potato & Carrot Sourdough; and Rye Pumpernickel Sourdough (rsp: £2.50-£9).
All the mayonnaises are vegan. They are made with faba beans, which Leon said led to "rich, creamy, satisfying condiments".
The loaves of bread – all sourdough – are made with a 20-year-old 'mother' starter, from which dough is drawn and fermented for 20 hours before being shaped and divided. They are then baked in-store in Sainsbury's bakeries.
The range hit the retailer's shelves in 600 stores this week, with the exception of the breads, which have launched initially into just 32 stores.
The launch is part of Sainsbury's ongoing Future Brands drive, through which the retailer is looking to differentiate its product offer with a growing roster of smaller, more "distinctive" suppliers.
Sainsbury's head of future brands Rachel Eyre said it would be "working closely with Leon and with our customers to decide where to take [the range] next".
Leon co-founder John Vincent called the move "an important step for us as we grow beyond restaurants and continue to live out our ambition to help people access naturally fast food every day".
Restaurant inspiration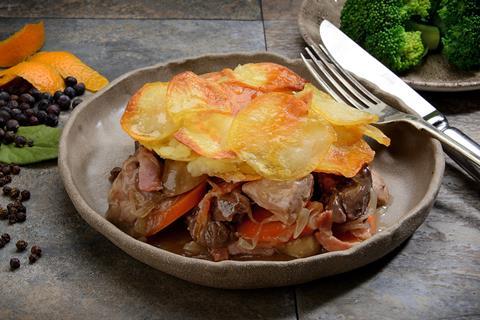 And the healthy food chain isn't the only restaurant brand launching into the retailer over coming weeks: Michelin star-winning chef Nigel Haworth is moving into grocery with Sainsbury's, too.
The chef, of the acclaimed restaurant Northcore Manor, has created a Lancashire hot pot, a beef & ale hot pot, a vegetarian hot pot and a curried chicken hot pot, which will hit 150 of the retailer's stores from 5 November (rsp: £7.50).
The range, which spent two years in development, will be called 'Food With Roots'.
"It has taken a great deal of time to develop the hot pots to the exact standards that I wanted," Haworth said. "I've also been passionate about British comfort food and I think that we have got this range absolutely right, with something for everyone to enjoy."