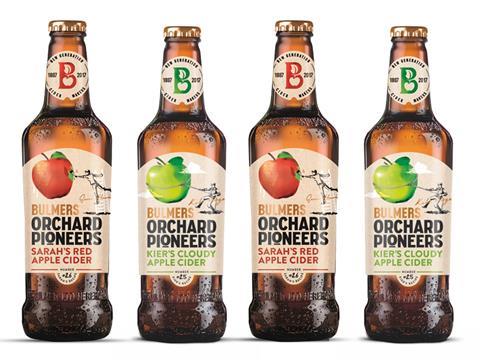 Heinken is launching two "artisanal" ciders under its Bulmers brand to help "bridge the gap" between mainstream apple cider and more premium tipples.

Launching this month, the Bulmers Orchard Pioneers duo were developed in collaboration with two "expert" apple growers and cider makers from Herefordshire, Kier Rogers and Sarah Hawkins.

Both variants are medium-bodied sparkling ciders with a 5% abv and will be available in a 500ml bottle (rsp: £2) and a 4x330ml can pack (rsp: £4.50)

Sarah's Red Apple Cider has the "subtle bittersweet taste of true Herefordshire apples", while Kier's Cloudy Apple Cider has the "flavour of fresh apple juice and subtle caramel sweetness", according to Heineken.

Artisanal apple cider was deemed to be one of the "key category drivers" over the next four years, the brewer said, and Bulmers Orchard Pioneers had been "crafted to help drive this growth".

"As the UK's number one cider producer, we are committed to driving the cider category's success for our customers," said Emma Sherwood-Smith, cider director at Heineken. "Bulmers Orchard Pioneers will expand drinkers' repertoire and act as a stepping stone into premium artisanal ciders, adding value for the retailer and category."

The launch will be supported by a £2m campaign.