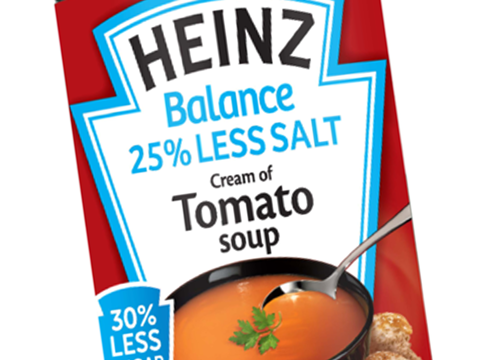 Heinz is revamping its reduced salt soups with new branding and an extended product range.

Now called Heinz Balance (rsp: 95p/400g) the range includes Cream of Tomato, Cream of Chicken and two new flavours: Vegetable and Carrot & Coriander. Each contains 25% less salt than the equivalent standard line, with Cream of Tomato having 30% less sugar and the other three no added sugar.
Launching on 3 August, the range follows research that found 73% of wet ambient soup consumers described themselves as health-conscious [Brainjuicer Diet Research Nov 2014]. Heinz launched a version of its ketchup last autumn with 50% less salt and sugar, and followed this in May with baked beans with 50% less sugar and 25% less salt. "We are keen to introduce new and innovative additions to our Soup range to ensure we meet consumer needs," said Heinz marketing executive Marco Marioni. "Heinz has already had a great response to its recent reduced salt and sugar ranges across tomato ketchup and Beanz and hope to see continued success for our new reduced salt soup offering." Sales of Heinz classic soup range are down 6.1% to £159.8m, on volumes down 4.2% [IRI 52 w/e 25 April 2015]. In contrast, its Reduced Salt & Sugar Beanz are up 22.1% to £10.9m.