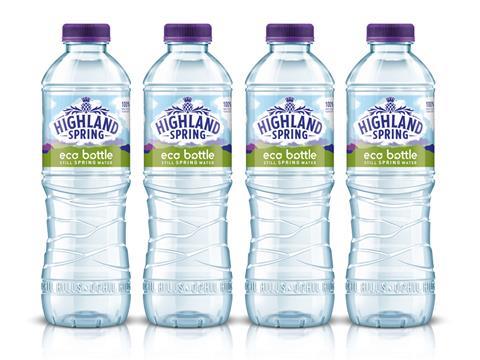 Highland Spring has beaten main rival Evian to become the first leading bottled water brand to launch a 100% recycled plastic pack into UK grocery.
The business is trialling its 500ml 'eco-bottle' of still water at selected Tesco stores in Scotland, with Sainsbury's stores in England to follow. It will also be available at the Fever-Tree Tennis Championships on 18-24 June at London's Queen's Club.
The bottle has a grey tinge as a result of its use of rPET – which Highland Spring sources from the Continent. The label features a burst of green colour, in place of the brand's customary purple, and a '100% recycled plastic bottle' message.
Shoppers were invited to offer feedback via the Highland Spring website to "help measure the public's perception of recycled plastics and their reaction to a 100% recycled plastic water bottle" said the brand. "The insights will feed into category-wide strategies to help eliminate plastic waste."
The launch of the fully recyclable rPET pack comes after Danone Waters announced its aim in January to make all Evian bottles from 100% recycled plastic by 2025.
"The trial is part of our commitment to inspiring positive recycling habits among shoppers," said Simon Oldham, group commercial director at Highland Spring.
The business recently joined other major soft drink suppliers for the University of Cambridge Institute for Sustainability Leadership's Future of Plastic Packaging initiative.