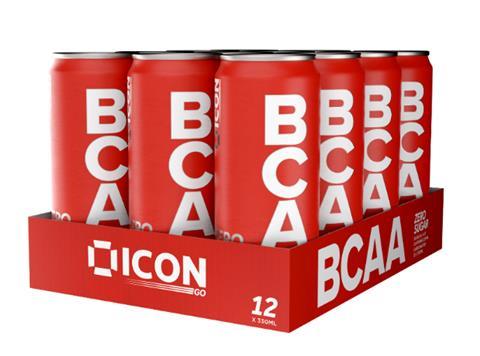 Sports supplements supplier Icon Nutrition has added a functional zero-sugar energy drink – as an on-the-go alternative to powdered energy supplements.
Icon Go BCAA Zero's launch had come in response to "growing demand from busy consumers for a ready-mixed high-energy drink with functional benefits" said the business. A 330ml can contains 125mg of caffeine – the equivalent of 41mg per 100ml. It also offers 100% the RDA of vitamin D and 5,000mg of branched-chain amino acids, the 'building blocks' of protein that "reduce muscle soreness, decrease fatigue, suppress appetite, and burn fat" according to Icon.
"People want convenience, and that means a ready-to-drink product without the fuss of powders and mixing," said co-owner Shaun Gibbins.
Priced at £30 for a tray of 12, the new drink was "just the first of several other exciting grab-and-go products we have coming out this year" he added. "Icon Go aims to be a leading fmcg brand in sports nutrition. Consequently, we want to work with wholesalers, forecourts and retailers to bring this product to a wider audience."