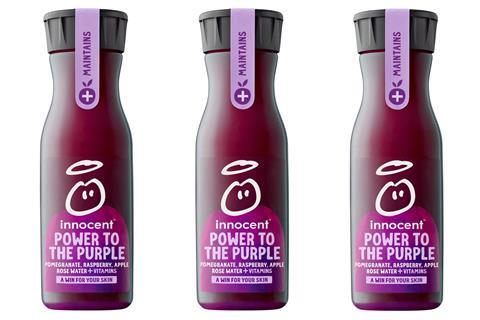 Innocent has boosted its Innocent Plus range with a new flavour.
Called Power to the Purple, it includes "powerful" ingredients such as pomegranate, raspberry, apple and rose water, said the brand.
It also contains vitamins B3, B5, B6, B7, B9 and C, which Innocent said provided "tailored health benefits".
These included "contributing to normal energy yielding metabolism and helping reduce tiredness and fatigue", it said.
Power to the Purple has launched into Tesco, Asda and Sainsbury's in 750ml bottles (rsp: £2.99) as well as Tesco and Boots in 330ml bottles (rsp: £1.79).
Innocent brand manager Karine Loutfi said the brand "decided to tick off another colour of the rainbow" following shopper feedback that they "loved the Innocent Plus range".