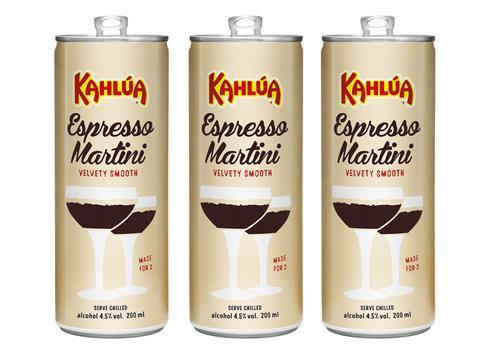 Pernod Ricard's coffee liqueur brand Kahlúa is to make its debut in canned RTDs with a new espresso martini cocktail that uses 'widget technology' to ensure a foam-topped serve.
Billed as a first for the UK RTD sector, Kahlúa Espresso Martini (4.5% abv) comes in a 250ml can that is infused with nitrogen, creating a 'nitro foam' on the drink.
Only 200ml of liquid is poured into the cans during production, with 50ml left over to allow space for the froth.
Pernod claimed the Kahlúa brand had "become synonymous with the espresso martini", which was "enjoying a resurgence in popularity in line with the nation's fixation with quality coffee".
The NPD, rolling out exclusively into Waitrose from 17 September (rsp: £1.90), would allow shoppers to "recreate the perfect on-trade cocktail", added Pernod Ricard UK head of marketing Toni Ingram.
Pernod has also detailed plans to extend its Caskmates range of craft beer barrel-aged Jameson whiskeys over the coming year. Pernod currently sells 'hyper-local' caskmates variants in several global markets, and it is understood a UK version is in development, with spring 2019 pencilled in as a potential release date.
The Caskmates brand was "at the forefront of tying together craft beer and whiskey", said Pernod Ricard commercial director Chris Ellis.
It comes just weeks after the spirits giant announced plans to ramp up its marketing spend for the coming festive season, planning a 50% increase in spend behind its key spirit brands Absolut, Jameson, Plymouth Gin and Beefeater Pink.
This would be accompanied by a "big availability push" into retail, boosting the brands' presence with front-of-store pallets and features in retailer media campaigns.