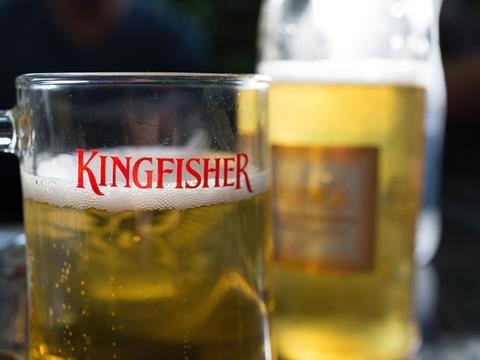 Kingfisher Beer is looking to launch a new craft IPA as Indian lagers fall out of favour with British shoppers.
The brand has applied to register the trademarks 'Bombay Bicycle IPA' and 'Bombay Cycle IPA' with the Intellectual Property Office, following reports Kingfisher was looking to enter the booming craft segment last year.
The brand did not comment on the specifics of the beer or its launch date, but confirmed it was in development.
The news comes amid flagging consumer interest in Indian lagers. Kingfisher's retail sales have fallen 11.7% over the past year, dropping £296k to £2.2m, while its biggest competitor Cobra saw sales fall £72k (0.2%) to £35.6m for its flagship lager and £26k (9.8%) for its King Cobra variant. Only rival Singha grew its value, up £146k to £4.8m [IRI 52 w/e 6 January 2018].
These declines correspond with falling interest in traditional Indian restaurants, as Brits opt for regional Indian and street food-style offerings, which tend to offer premium or craft beers.
While posh world beers were performing well in the mults, Indian lagers had "more in common with the likes of Foster's," said Toby Magill, business unit director at IRI. "It's what you have on a Friday night out and it's mass market".
Yet there was "no reason" why Kingfisher's IPA wouldn't be a success, he added. "As long as they get the labelling and the positioning right. It's going to come down to how well they execute the beer and whether they get it into the right locations in the on-trade."