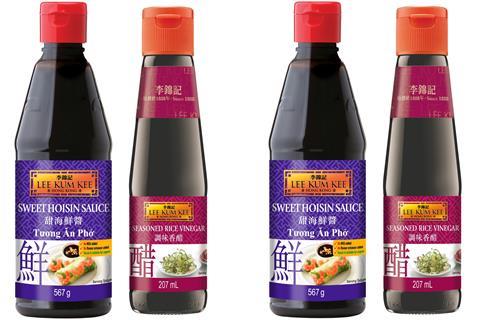 Lee Kum Kee has added a duo of new cooking sauces.
Sweet Hoisin Sauce and Seasoned Rice Vinegar have joined the brand's lineup, offering shoppers "authentic flavours of Chinese cooking", according to Lee Kum Kee.
Sweet Hoisin Sauce (rsp: £2.30/567g) is billed as an adaptation of the classic Hoisin Sauce, made with spices, soybeans, sesame seeds and sweet potatoes.
The Seasoned Rice Vinegar (rsp: £2.50/207ml), meanwhile, had "complex flavours" with subtle sweetness and malty, woods, smoky flavours and aromas, the brand said.
Both have launched into Tesco.
It comes as shoppers had been getting more adventurous with cooking during lockdown, experimenting with different ingredients and world flavours.
"Covid-19 has limited opportunities for overseas adventures but has provided an opportunity for consumers to experiment with different ingredients and flavours from around the world from the comfort of their own homes," said MD Maria Chong.
"Our Sweet Hoisin Sauce and Seasoned Rice Vinegar are great store cupboard essentials to bring a burst of flavour to many meals," she added.