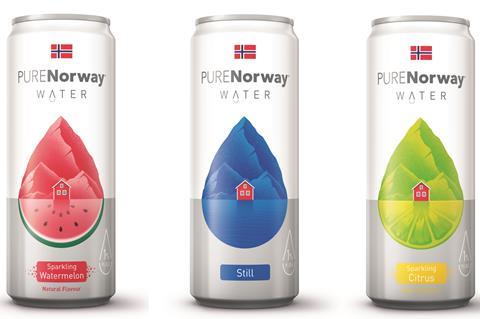 Sustainable backpack brand Pure Norway is venturing into fmcg with the launch of an "ethical" canned water brand.
It will debut with cans of still and sparkling water in early 2020, along with five sparkling flavours. They are: green tea & peach, citrus, watermelon, ginger & lemon and orange (rsp: £1.20/330ml).
The drinks will roll into a "major online grocery partner", as well as specialists and independents, said the brand.
The water used was "sourced from Norway and filtered naturally through marble", it added. The range was "inspired by the Norwegian concept of 'friluftsliv' or open-air life, conveying the importance of spending time outdoors".
It was created as a joint venture between Pure Norway and brand agency MDR Brand Management.
MDR CEO Daniel Avener said this was MDR's first equity investment into a brand, and it had selected one that "shares our values and has a strong environmental ethos".
Pure Norway plans to donate 1% of the turnover from the newly created water business to the Pure Norway Foundation, which works to combat plastic sea waste.