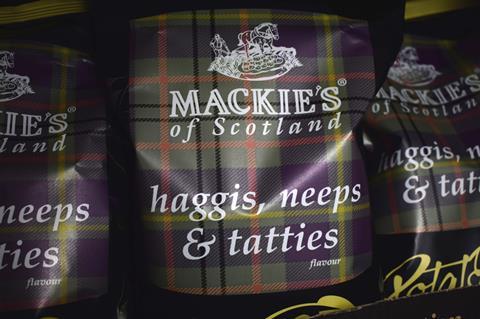 Mackie's at Taypack has added new Haggis, Neeps & Tatties flavour crisps, which it claims is a world's first.
The crisp brand said its new flavour was "deeply reminiscent" of the famous meal and had a "light, peppery flavour". They are made with "entirely natural flavourings and high oleic sunflower oil", said the brand, and are vegan-friendly.
A limited run of 150,000 150g packs has been made, which are due to hit Aldi, Sainbury's, Lidl, Scotmid and B&M stores this month. Its rsp is to be confirmed.
After narrowing down "a number of patriotic flavour combinations", Haggis, Neeps & Tatties had "emerged as the runaway favourite", said Mackie's at Taypack commercial director James Taylor.
"While we do push the boat out with exotic flavours, we do also like to look closer to home at some of the fantastic dishes from our heritage. Quite simply, there are none more iconic than our own national dish."
He added the brand may "expand the run and make it a permanent addition". "We are keeping in contact with end consumers and trade clients to see what the appetite is like for our new flavour."