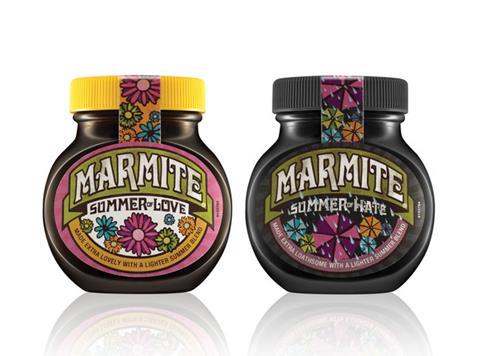 Summ'll love it, summ'll hate it: Marmite is rolling out a seasonal limited edition flavour.
Available from July to September, Marmite Summer of Love (rsp: £3.49/250g) uses lager yeast said to give the spread a lighter flavour than the regular product, which uses a mixture of lager and bitter yeast.
Named after the summer of 1967, when 100,000 hippies descended on San Francisco, the packaging features a psychedelic-tinged floral design with a pink background and green banner.
However, in a nod to the polarizing nature of the product, Unilever is also randomly distributing just 94 jars of Marmite Summer of Hate, which features a black label with rain drops and umbrellas in place of the flowers.
"With an innate ability to create talkability and buzz, Marmite owns a unique territory and we aim to build on this with the launch of our limited-edition summer spread," said assistant brand manager Philippa Atkinson. "This summer, we want to encourage the British public to be lovers, not haters, with our new lighter tasting recipe. It is a slight twist on the traditional recipe, making it a perfect spread to have this summer."
Sales of Marmite fell 10.3% last year to £33.4m and it was pushed to third place in the spreads category by chocolatey rival Nutella, which rose 20% to £41.9m [Nielsen 52 w/e 11 October 2014].