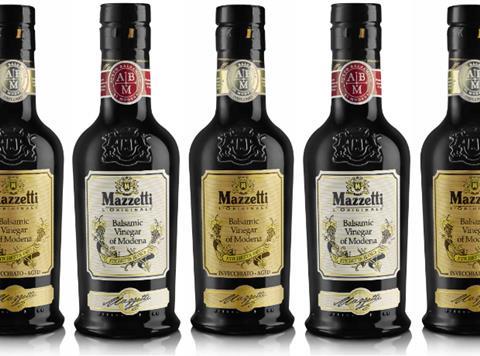 Italy's leading producer of balsamic vinegar of Modena, Mazzetti, is making its debut in UK grocery, launching two variants of its core range.
Etichetta Oro and Etichetta Bianca are rolling out to Sainsbury's in a 250ml bottle, with rsps of £9.90 and £5.90 respectively. Both feature a top mark of four in the 'leaf' rating system that appears on some bottles of Modena balsamic.
The classifications were "currently not widely understood" said Mazzetti. However, they provided shoppers "with an easy-to-follow reference tool for product choice" it added. Four leaves indicated "a richer, more versatile vinegar that can add a delicious range of flavours to foods as broad as prosciutto, parmigiana, high-quality cuts of cooked meat, or even ice cream".
Mazzetti's launch this week will be supported by a £1m investment fronted by Italian chef Theo Randall of The InterContinental London Park Lane. Featuring PR, sampling and social media, it will highlight balsamic vinegar's appeal as a food ingredient and meal accompaniment.
While the balsamic category was worth £50m in the UK, the country "lags behind many global markets in per capita consumption" according to Mazzetti, which is available in 40 other markets worldwide. It is the bestselling brand in Germany and Australia.
The brand's aim was "to help consumers understand how a premium balsamic vinegar of Modena
can genuinely expand their culinary repertoire" added founder Cesare Mazzetti.