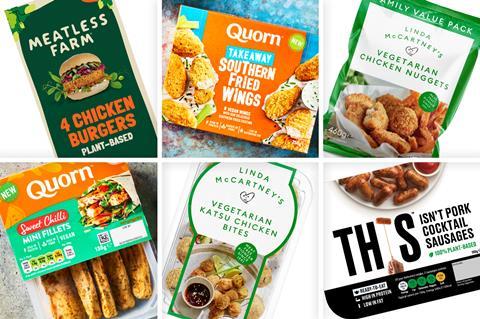 The UK's biggest meat alternative brands have added a deluge of NPD to cash in on this year's Veganuary.
Linda McCartney's has added two new ranges spanning chilled ready to eat and family value packs. The chilled, ready-to-eat range includes plant-based pulled pork rolls, mini sausage rolls, chorizo cocktail sausages, katsu chicken bites and cocktail sausages (rsp: £1.75-£2.50/155g-175g), while the family range comprises the brand's bestsellers in larger formats.
Quorn has rolled out a pair of chilled vegetarian bites in Garlic & Herb and Creamy Korma flavours (rsp: £2.25/180g each), added a new Southern Fried Wings variant to its takeaway range (rsp: £3/250g), and unveiled a duo of vegan Sweet Chilli Mini Fillets and Jerk Mini Fillets (rsp: £2.50/145g). The plant-based mainstay has also launched a new TV ad push, which will run until the end of February.
Meatless Farm, meanwhile, has made its play for growth in the nation's freezers. It added a five-strong range of frozen SKUs into 490 Morrisons stores this week, launching burgers (rsp: £3.50) as well as mince, meatballs and sausages (rsp: £3). It previously sold just one frozen SKU in Ocado.
The move would see the brand "significantly expand into a new category at a time when more people than ever before are looking for great-tasting plant-based food", said its MD Michael Hunter.
Fast-growing challenger brand This has not added any new products especially for Veganuary, but rolled out new-look packs designed to make its products "more approachable, familiar and help spark recipe inspiration", it said. It also kicked off a campaign called 'Plant-based. Promise', spanning outdoor, digital, PR and in-store activity, offering shoppers "a bold money back guarantee if consumers don't think their products are meaty enough".
It comes as more than two million people have signed up to take part in Veganuary since the campaign's inception in 2014. A spokeswoman for Veganuary said this year's event was expected to pass 600,000 sign-ups – beating last year's 580,000.
It was now "a bigger feature in the retail calendar than Christmas", claimed its co-founder Matthew Glover. "Two million official participants in just eight years is a huge achievement, but the explosion in plant-based products that has accompanied it is truly revolutionising the future of food."
Unprecedented demand
However, as Veganuary hits its stride, suppliers are facing unprecedented demand – but this could be thwarted by supply challenges, headlines have suggested.
The Telegraph reported this week that Veganuary could be "at risk as brands battle supply chain shortages".
However the message from suppliers was less worrying. This co-founder Pete Sharman told The Grocer "we haven't shorted any of our retailers in spite of all the headwinds" such as shortages of labour, haulage and warehousing.
"On the labour front we have gone as far as recruiting temporary staff to put into our partners' factories to make sure we have enough stock," he said.
A spokeswoman for Quorn, meanwhile, which was hit by shortages during Veganuary 2020, said the brand had prepared for Veganuary "as normal, to ensure we meet the increased demand".
Veganuary was "a pivotal moment for us and the meat-free category, as January is the highest penetration month of the year", she added.
However, Sharman suggested smaller brands may be more at risk. "Retailers provide suppliers with forecasted demand but in periods of very high demand, the variation between forecasts and actual orders can be extreme, especially if it's a new brand the retailer doesn't have a lot of experience with.
"If the retailer has told them they will need 1,000 cases per week in January, then on 2 January that turns into 4,000 cases, that very short notice can be extraordinarily challenging because the sector is still growing," he said.
This was especially tricky when "you have very little experience and history to compare to, you have a very nascent supply chain, and don't have the relationships with suppliers or customers", he added.