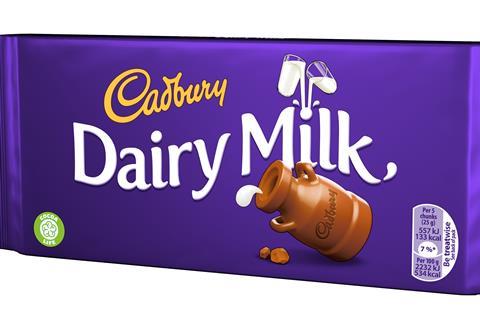 Mondelez is reportedly working on a plant-based version of its Cadbury Dairy Milk bar.
A report by The Telegraph said the Mondelez-owned brand was understood to have been testing the recipe for the milk-free chocolate for around two years.
It said that Mondelez had to delay the launch, which was initially planned for January, as it struggled to find a dairy substitute which was also suitable for consumers with nut allergies.
A Mondelez spokeswoman said the brand was "always listening to our customers, so we can develop and provide people with a greater choice of products".
"This includes looking at a plant-based Cadbury Dairy Milk bar, however, we have no immediate plans to launch a new product in market."
The spokeswoman added that Mondelez was "only interested in launching a new vegan product that retains the texture and taste that our customers expect and love from Cadbury products".
It comes just months after Mars Wrigley rolled out a trio of vegan Galaxy chocolate bars in November 2019.
The bars launched in three flavours – Smooth Orange, Caramel & Sea Salt and Caramelised Hazelnut – and came in biodegradable wrappers within recyclable cardboard boxes.