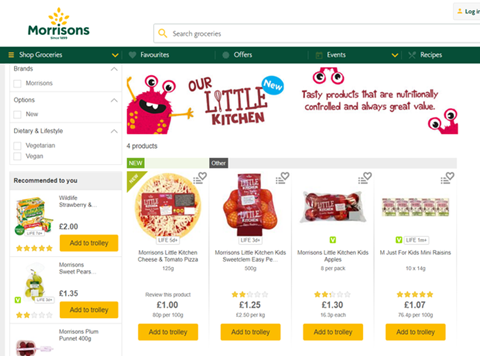 Morrisons has launched its new kids range, with a focus on healthy food and recyclable packaging.

The retailer launched nine new products this week, to add to some that have been on shelves since October, with about 20 products in the range in total.

Included are ready meals such as fruity chicken curry; ham, sweetcorn & pea carbonara; and sausage, mash & beans, as well as haddock & sweet potato nuggets; and pumpkin, sweetcorn & red pepper nuggets.
Morrisons is aiming the range at time-pressed parents of younger children who want to be able to cook nutritious food for their kids.

All of the meals contain at least one of the recommended 5 a day and the entire range is low in sugar, salt and fat. The Little Kitchen products also contain no artificial colours or flavours.

Alongside ready meals, the range also includes fresh fruit, such as a pack of seven snack-size bananas for £1.38, 500g of easy peeler tangerines for £1.25 and a pack of eight apples for £1.30.

The Little Kitchen range comes packaged in recyclable trays.