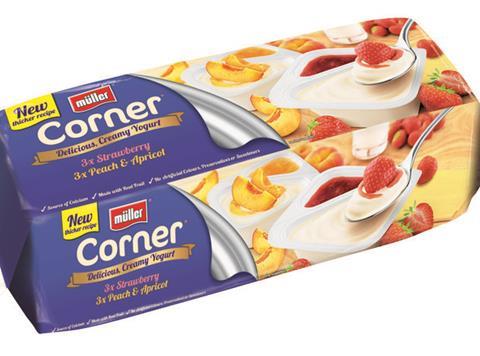 Müller is set to reduce the amount of sugar it uses in its Müller Corner range by up to 9% following the discovery of a brand new dairy culture that allowed it to create a "less sour tasting yoghurt".
Species of bacteria traditionally used in yoghurt manufacturing normally require a certain amount of sugar to make them palatable. However, Müller said its development of a new and "unique combination" of cultures negated this need.
While the dairy giant was keeping the name of the culture under wraps, it said it had been created from a blend of streptococcus thermophilus and lactobacillus bulgaricus. Its development followed 18 months' worth of research, where it investigated "thousands of different types of yoghurt strains until we found this combination".
t also created a "thicker texture and creamier taste" to Müller's previous formulation and was backed by consumers in a taste test of 150 people, it said.
The supplier added it was yet to finalise the overall sugar content in its reformualted recipes. However, a 9% drop in sugar would see the amount used in a current 150g Müller Corner Strawberry fall from 12.6g per 100g to 11.5g.
Müller's first SKUs created using the new culture will roll out across the mults in May. It also intends to reduce sugar content by up to 28% across its Mullerlight range by using the new culture and cutting out all added sugar.
"The challenge we faced was how to reduce sugar, without ever compromising on taste," said chief marketing officer Michael Inpong.
"By changing the culture we use to make our yoghurt we've created something completely unique. Not only does the new Corner yoghurt recipe have a thicker and creamier texture, but it has less sugar."
The reformulation will be backed by a marketing push next year. It follows a significant reformulation drive for the company, which announced at the beginning of the year it had lowered sugar content by 13.5% across its branded portfolio since 2015, equal to 1,759 tonnes.