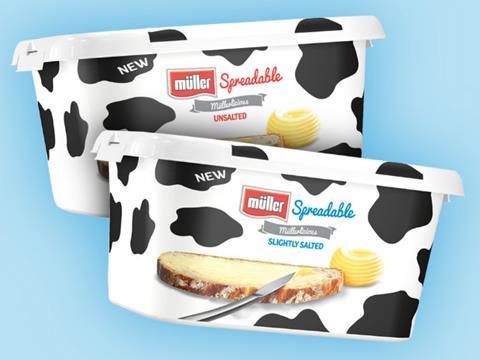 Müller has taken its first foray into the branded supermarket butter category with the launch of its first spreadable butter.

Müller Spreadable went on sale today in Tesco stores nationwide in slightly salted and unsalted variants in 400g (rsp: £3) and 250g (rsp: £2) pack sizes.

The brand's block butters have also been listed by Tesco (rsp: £2/250g) in salted and unsalted variants as part of a major push into the BSM aisle. All six SKUs will also go on sale across the mults later this year.
The Spreadable SKUs are produced in Germany, mixing 73% butter with rapeseed oil and buttermilk, while the block butters are manufactured at Müller's Market Drayton butter plant.
Müller said it would look to bring production of Spreadable to the UK if it proved successful. The launch comes three years to the day after the dairy giant introduced its first retail butter packs, supplying branded blocks for the convenience channel and own label into the mults.
Introducing Müller's Spreadable range would disrupt the category, said a spokesman for the supplier, with the brand aiming to translate the success which sees more than two thirds of families buying its yoghurts [Kantar 12 w/e 7 October 2017] into the £1.1bn BSM sector [Neilsen Top Products 2017].

The brand was aiming to increase consumption across all age ranges, with the new products targeting families in particular, said commercial director at Müller Milk & Ingredients Dan Howell.

"We recognise there has been a lack of new product development in this part of the dairy aisle, and we're confident that by focusing on taste and leveraging the brand power of Müller we can unlock new category growth," he added.

A multimillion-pound marketing campaign will support the launch of the Spreadable range, with a new TV advert starring Nicole Scherzinger set to start airing next month. The spreads will also become the Official Spreadable of British Athletics.

The launch came as rival Arla today debuted its softest ever Lurpak spreadable in a bid to engage consumers who count ease of spreading directly from the fridge as the most important factor in choosing a spread.