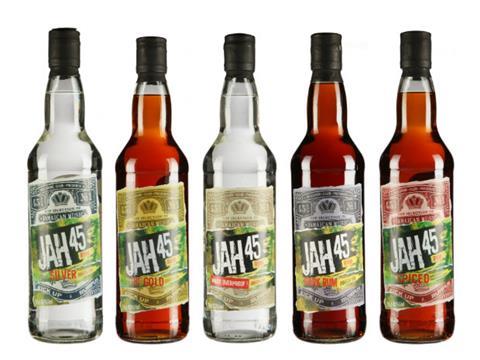 Premium drinks distributor Mangrove has launched a range of new rums inspired by the Jamaican funk music era of the 1950s and 1960s.

Five variants of JAH45 have been released including Spiced, Dark, Silver and 18ct Gold (all 40% abv) as well as an Overproof (63% abv), with rsps between £19.99 and £26.99 per 70cl bottle.

The label, mixing modern and vintage designs with rip detailing, was reminiscent of dance hall posters and intended to make the bottes stand out on shelves, said Mangrove.

Though bottled in the UK, the rums are distilled at Jamaican distilleries and have secured listings on Amazon and Masters of Malt.

"With the unique 'funk' flavour, JAH45 are rums that go back to their Jamaican roots and offer an exciting addition to standard rum selections," said Mangrove MD Nick Gillett.

"With the global distribution rights, we look forward to working with JAH45 to launch and continue to grow into the UK and other markets."

The brand was created by Hellshire, a company specialising in NPD in gins and rums, with former Wray & Nephew executive Carl Stephenson at the helm. Its first brand was Jamaica Cove rum, launched last year.

JAH45 would appeal to consumers aged between 25 and 44 with an affinity for the "music-infused street culture" the brand sought to represent, said Stephenson.

"We feel passionately that the UK rum market could benefit from more competition in the 'premium/entry rum' segment, particularly in the Jamaica arena where JAH45 could add value to retailers looking for more of an independent brand offering," he added.