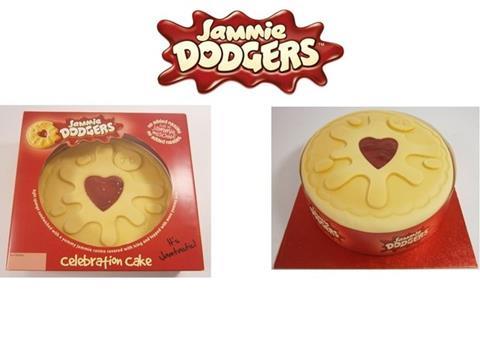 Jammie Dodgers has made its debut into the cake category.
The biscuit brand's Celebration Cake, developed by Finsbury Foods, is the first licensed product from Burton's Biscuit Company, which confirmed that further "innovative and exciting" products were in the pipeline.
Aimed at the family market, the iced sponge resembles a large Jammie Dodger and comes complete with a jam filled centre.
"The biscuit-come-cake is a larger version of this UK staple that can be used for birthdays or sharing with family and friends," Daryl Newlands from Finsbury Foods said. The cake is filled with the well-known fruity gooey Jammie Dodger Jam so it won't disappoint."
Stuart Wilson, chief commercial officer UK & Ireland at Burton's Biscuit Company added: "Our successful partnership with Finsbury Foods means our loyal consumers can now enjoy a premium cake experience with all the qualities of our popular Jammie Dodgers biscuits."
The cake is available from Tesco and Asda, priced £7 (rsp).