Christmas celebrations have barely begun, but food and drink brands are already thinking about the next big event in the calendar – Veganuary. Here's our pick of the new vegan-friendly product launches hitting shelves for the biggest event in the plant-based calendar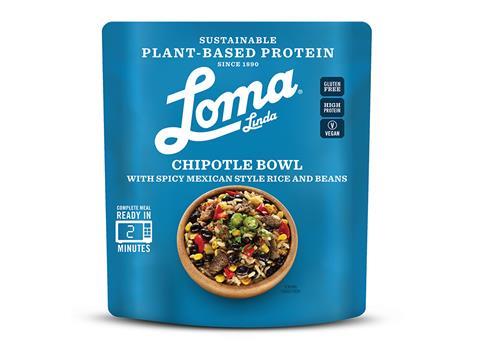 Loma Linda ready meals
Launch date: January 2019
Rsp: Ready meals £2.99, Tuno £1.29-£1.49
Listings: Amazon
This US brand is launching a raft of innovative new plant-based products in the UK in late January. The range includes globally inspired recipes like Spicy Pad Thai, Tikka Masala, Chipotle Bowl and Hearty Stew. The brand is also launching tuna alternative Tuno into the market in cans and on-the-go pouches. Tuno will be available in five flavours, including Lemon Pepper, Sweet Chilli and Vegan Mayo.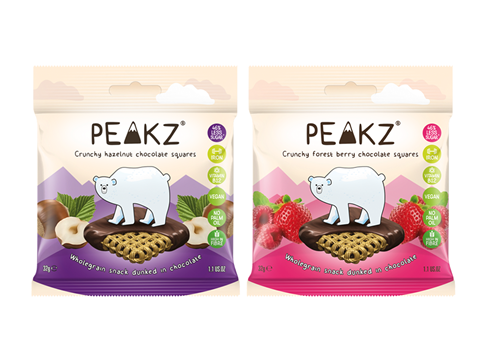 Peakz
Launch date: December 2018
Rsp: £1.20
Listings: Independent health stores
Young vegan snack brand Peakz is bringing three new flavours of its wholegrain chocolate squares to the market ahead of Veganuary. Mint Chocolate, Forest Berry and Crunchy Hazelnut are palm-oil free, made with Belgian dark chocolate and come in on-the-go snack packs.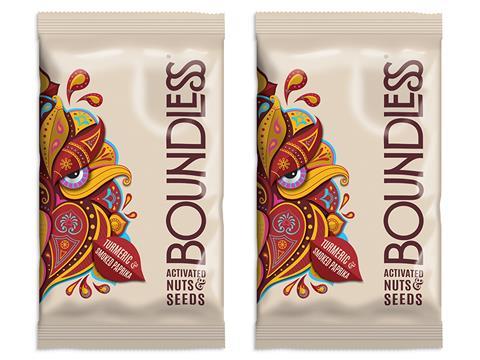 Boundless Turmeric & Smoked Paprika
Launch date: November 2018
Rsp: £1.70
Listings: Amazon
This snack brand soaks and bakes seeds and nuts to "unlock their nutrients for better digestion". The latest flavour, Turmeric & Smoked Paprika, is high in protein, high in fibre and soya-free.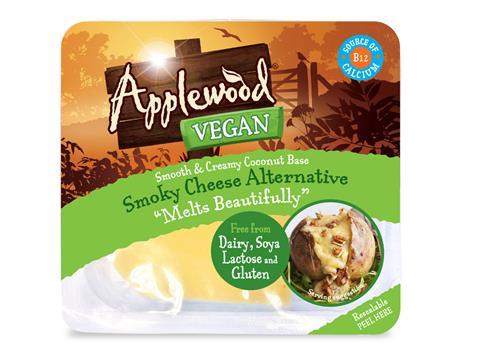 Applewood Smoky Cheese Alternative
Launch Date: January 2019
Rsp: £2.30
Listings: Asda
The first dairy-free variant from Applewood, this smoked coconut-based cheese is free from dairy, soya, lactose and gluten, and is fortified with calcium and vitamin B12. Accoriding to the brand, the cheese alternative can be sliced, grated or melted and will maintain its smoky flavour.
Pukka Cacao Maca Magic Latte
Launch Date: October 2018
Rsp: £4.99
Listings: Tesco and Amazon
This organic and caffeine-free latte powder contains medicinal-grade ashwagandha, a traditional Indian herbal remedy said to ease stress, and South American herb maca, which is said to boost mood. The chocolate-flavoured mix is blended with hot almond or coconut milk to make a "creamy and satisfying" drink.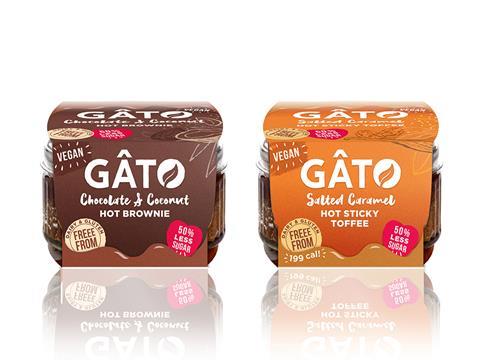 Gato pudding pots
Launch date: January 2019
Rsp: £2
Listings: Whole Foods Market, Sainsbury's, As Nature Intended, Harrods and Ocado
This pudding pot brand is planning to relauch two of its flavours with new vegan recipes. Gluten-free Chocolate & Coconut Hot Brownie and Salted Caramel Hot Sticky Toffee flavours will be transformed with almond milk, raw cacao, creamed coconut and courgette instead of butter. The brand says the puddings have "the same great taste and comforting texture" but are now plant-based.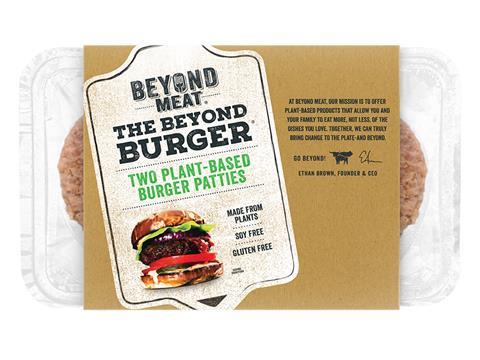 The Beyond Burger
Launch date: November 2018
Rsp: £5.50
Listings: Tesco
This long-awaited burger has finally hit supermarket shelves in a two-pack in November. The chilled soya-free patties are made with Canadian yellow peas and beetroot "to lend a meaty red hue" and contain 20g of protein per burger – more than a Tesco own-label quarter pounder.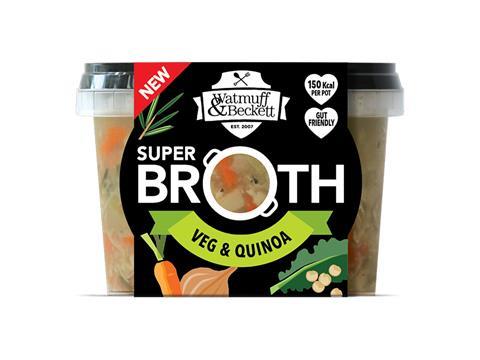 Watmuf & Beckett Super Broth
Launch date: January 2019
Rsp: £2.99
Listings: Ocado
Aiming for the lunchtime market, this broth pot combines quinoa, carrot, kale, garlic and rosemary for a blend the brand claims is "gut friendly". The gluten-free meal soup contains 150 calories and 10g of protein.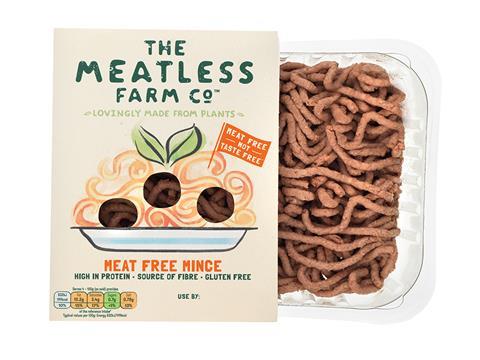 The Meatless Farm Co mince and burgers
Launch date: October 2018
Rsp: Mince £3, burgers £2.50
Listings: Sainsbury's
Sainsbury's took on this startup brand's soy-based mince and burger patties in October. Manufactured in Nottingham, the chilled lines are wheat and gluten-free and are "loaded with taste and texture" and will be loved by meat eaters just as much as vegans, according to the brand.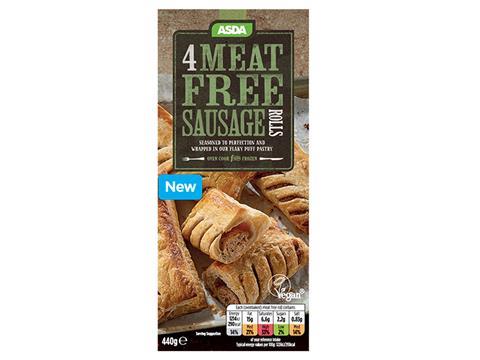 Asda Meat Free Sausage Rolls
Launch date: November 2018
Rsp: £1.50
Listings: Asda
New in the frozen aisle, these four meat-free sausage rolls are made with soya, wheat and pea protein and wrapped in butter-free puff pastry. The product also sports a Vegan Society logo on the packaging.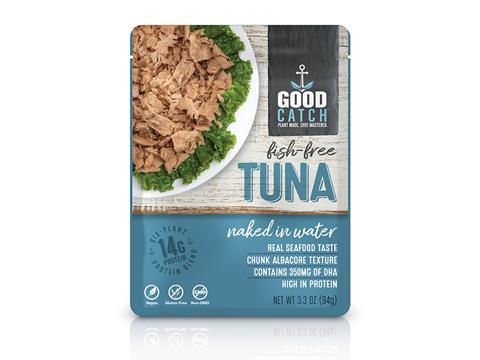 Good Catch Fish-Free Tuna
Launch date: January 2019
Rsp: TBC
Listings: Tesco
From the brothers behind Tesco's Wicked Kitchen range, this new fish alternative brand will launch into Tesco early next year. The Fish-Free Tuna, which is made with a six-bean protein blend and algae for a seafood flavour, will be available in three variants: Mediterranean, Naked in Water and Oil & Herbs. The brand also plans to launch a range of fish alternative burgers.