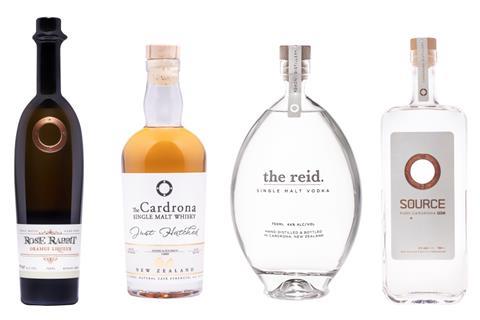 New Zealand spirits brand The Cardrona Distillery is to make its UK debut in Waitrose.
A four-strong range of spirits from the brand has rolled into the upmarket retailer: The Reid single malt vodka (44% abv), Source gin (47% abv), The Cardona Single Malt Whisky (64.4% abv), and a duo of 'Rose Rabbit' liqueurs in orange and elderflower flavours (47.1% abv and 49.6% abv respectively).
The fledgling brand was founded in 2015 by husband and wife duo Desiree and Ash Whitaker, and claims to be one of Australasia's fastest growing super premium distilleries.
It takes its name from Mount Cardrona, on New Zealand's south island, where many of the ingredients used in its drinks are sourced. The brand said this gave its drinks "a unique flavour profile".
The brand had been on "an incredible journey to date and this marks the next step in our journey", said Ash Whitaker, adding the brand was "currently in talks with other premium retailers in the UK".