Free-from brands Perfect World and The Fry Family Food Co are gearing up for warmer weather with ice cream NPD.
Perfect World has unveiled its dairy-free, no-added-sugar range for 2017 – set to roll out to freezers from 12 March. The brand, which claims to be the UK's first producer of stevia-sweetened ice cream, promises an average of 80 calories and 1g of sugar per 100ml.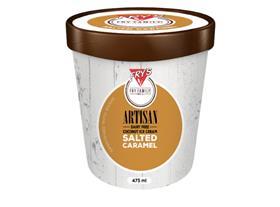 New variants Double Chocolate Chip and Mint Chocolate Chip will sit alongside the longer-standing Taste of Carrot Cake and Caramel Pecan – which have been reformulated for improved taste and flavour, and to be gluten-free.
Perfect World has also reduced the rsp of its 500ml tubs from £4.49 to £3.99. The move was to make the brand "mainstream" and avoid being seen by retailers as "niche", said CEO Chris Conklin.
Meanwhile, The Fry Family Food Co, which specialises in plant-based products, has diversified into "more indulgent territory" with the launch of Artisan Dairy-Free Ice Cream. The vegan-friendly range is made with coconut milk and sweetened by agave. It is available from this month in five 475ml variants with an rsp of £4.99: Madagascan Vanilla Bean, Just Toasted Coconut, Tons Of Cookies, Salted Caramel, and Vanilla Bean Espresso. All but Tons Of Cookies are gluten-free.
The range was produced in response to growing demand for dairy-free ice cream, said Tammy Fry Kelly, international marketing director for Fry's. "We'd also been on a hunt for something indulgent. The launch is our solution."