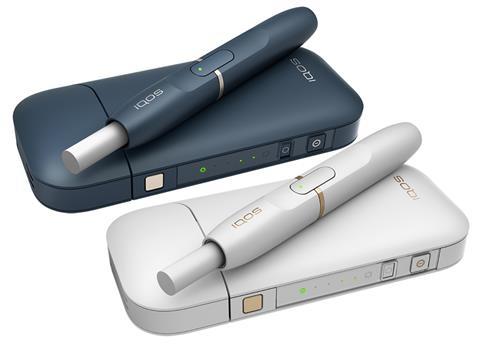 Philip Morris UK is marking the advent of standardised tobacco packaging in the UK by announcing the national roll-out of its IQOS heated tobacco system.
Currently IQOS, which launched with great fanfare in December, is only available in one dedicated store in London's Soho, but Philip Morris said today that it is set to establish a network of new IQOS retail outlets and partnerships with other retailers.
Philip Morris has also launched a new seven-day smoker 'conversion' programme. It said the initiative is backed by hundreds of support staff and aims to get 100,000 adult smokers to switch to IQOS.
"This is an important moment for the tobacco industry and for smokers," said Philip Morris UK & Ireland MD Peter Nixon.
"We believe every smoker who does not quit should consider switching to potentially less risky alternatives - and our dedicated smoker conversion programme will help smokers achieve this. This underlines our determination to move towards a smoke-free future."
The manufacturer said it has invested over £2.3bn in scientific research and development in potentially reduced risk products over the last decade and that more than two million smokers across the world have already stopped smoking and switched to IQOS since its first test launch in November 2014 in Japan.
It is also launching a new e-commerce website for the brand in the UK – IQOS.co.uk. It claimed that since launching in the UK, six in 10 registered users had fully switched from smoking. This is based on the results of a 207-strong consumer panel which ran between December and April.
This weekend marks the full implementation of both plain packaging for cigarettes and rolling tobacco and new EU legislation which requires that cigarettes cannot be sold in any packs smaller than 20 sticks and a 30g minimum for rolling tobacco.
Today is the last day retailers will be legally able to sell non-compliant packs. It is also a year after Philip Morris ended its UK legal case over plain packaging in May 2016. At the time it said it was diverting the funds from the legal challenge to converting smokers to smoke-free alternatives.
However Philip Morris has come in for criticism over its distribution of durable tins which are the same size as 10-packs and branded with the recognisable Marlboro Gold livery. It is understood that the tins were sold in convenience stores for the same price as normal 10-packs although it is not clear how many units were distributed.
Anti-smoking group groups have suggested Philip Morris was attempted to side-step the impact of the new legislation.